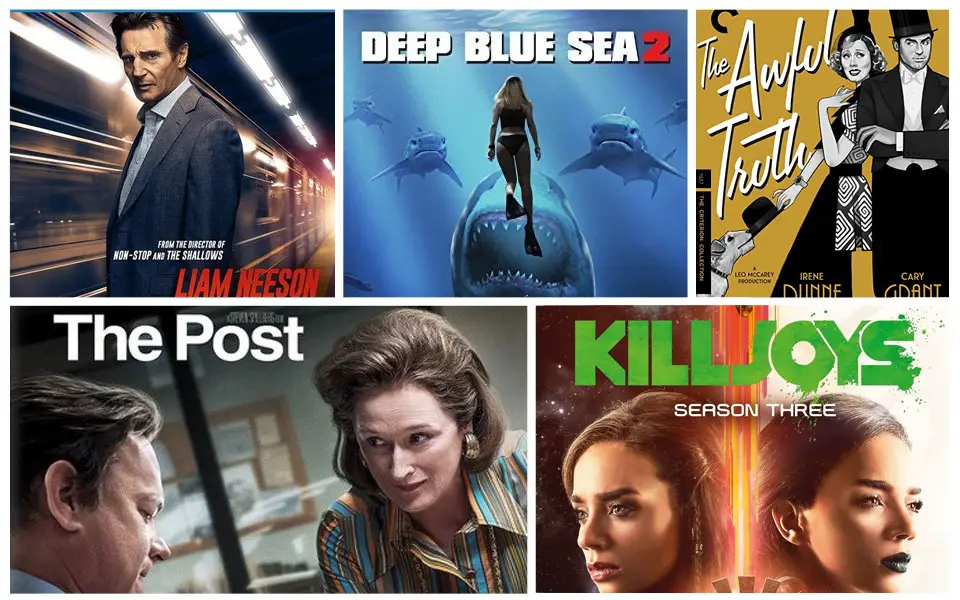 This week Oscar-nominated drama The Post arrives on disc for the first time, available on Blu-ray, 4k Blu-ray and DVD. The two-disc Blu-ray editions include the bonus features "Re-Creating and Era," "Filming The Post," and "The Cast of Characters of The Post," "Layout," and Style Section". And, each combo edition from 20th Century Fox packs a code for a free digital copy. More details.
Lionsgate's thriller The Commuter starring Liam Neeson also hits stores on Blu-ray, 4k Blu-ray and DVD for the first time, following an early digital release on April 3rd. The combo editions include an extra disc (either DVD or Blu-ray) as well as a digital copy that can be redeemed online. Bonus material includes the featurettes "End of the Line" and "Off the Rails." More details.
And, there are a quite a few older, pre-2000 titles getting released to Blu-ray, some for the first time and some in new, remastered editions. A few highlights include Criterion Collection's remastered edition of Oscar-winner The Awful Truth (1937) starring Cary Grant, and, Warner Archive's release of Oscar-winner Les Girls (1957) starring Gene Kelly.
New on Blu-ray & 4k Blu-ray, April 17, 2018
Ultra HD Blu-ray
Blu-ray
TV
Killjoys: Season Three
Mystery Science Theater 3000: Season Eleven
Movies
The Post
The Commuter
Deep Blue Sea 2
The Only Living Boy in New York
The Wedding Date
A Taxi Driver
Honor Up
The Perfect Man
Maximillian & Marie De Bourgogne
New Chefs on the Block
Big Brother Volcano
Rough Stuff
Humor Me
My Friend Victoria (2014)
Deliver Us From Eva (2003)
Something New (2006)
Captain Corelli's Mandolin (2001)
The Skulls (2000)
Pre-2000 Titles
Camp Nowhere (1994)
Straight Talk (1992)
Sleeping Dogs (1977)
Aloha, Bobby and Rose (1975)
Caravan to Vaccares (1974)
The Color of Pomegranates (1969) – Criterion Collection
The List of Adrian Messenger (1963)
The Thrill of it All! (1963)
Les Girls (1957) – Warner Archive
Trigger, Jr. (1950)
Singing Guns (1950)
The Egg and I (1947)
For Whom the Bell Tolls (1943)
The Awful Truth (1937) – Criterion Collection
Anime
Haikyu: Season 2
Urara Meirochou – Episodes 1-12
Collections
Seijun Suzuki: The Early Years. Vol. 2. Border Crossings: The Crime and Action Movies
In case you missed it here are last week's new Blu-ray & 4k Blu-ray releases.
[amazon_link asins='B0788YMYCV,B079VRMQQD,B07BMQBQ3V,B079F9HWNT' template='ProductGrid' store='API-user-hdr' marketplace='US' link_id='4c8c91ed-41ca-11e8-bca9-5ff6a24c84c5′]