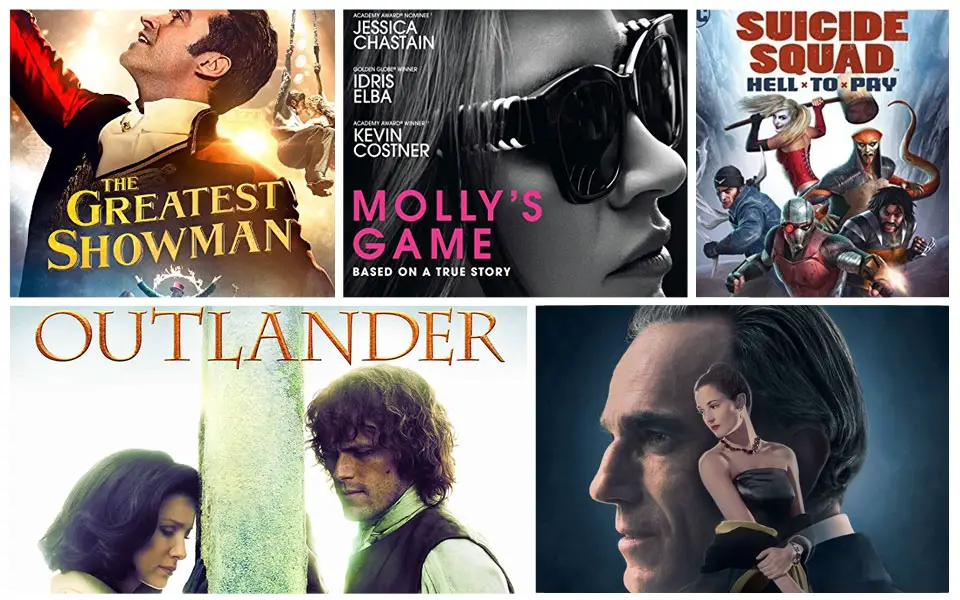 Here are our highlights of new Blu-ray releases for Tuesday, April 10.
One of the most popular new movies on disc this week is Oscar-nominated The Greatest Showman (2017) starring Hugh Jackman. The film is available on both Blu-ray and 4k Ultra HD Blu-ray, with an extra disc and digital copy included in each combo edition. Bonus features include two hours of behind-the-scenes footage and music juke box. List: $34.99 (Blu-ray) $39.99 (4k Blu-ray)
The Oscar-nominated drama Molly's Game starring Jessica Chastain, Idris Elba and Kevin Costner has been released to Blu-ray Disc (unfortunately there is no 4k edition) with a DVD, Digital Copy, and special feature "Building an Empire" included in the combo. List: $34.99
And, from the popular Starz! series Outlander, Season 3 is now available on Blu-ray and DVD. The 5-disc Blu-ray edition spans 745 minutes and 13 episodes from 2017, and includes 27 deleted and extended scenes, gag reel, featurettes and more. The season is also available in a Limited Collector's Edition with exclusive scene and additional featurettes. List: $55.99 (Standard Edition Blu-ray)
New on Blu-ray & 4k Blu-ray, April 10, 2018
Ultra HD Blu-ray
The Greatest Showman
Knowing
Push
Suicide Squad: Hell to Pay
The Incredible Hulk (2008)
Blu-ray
The Greatest Showman
Outlander Season 3
Molly's Game
Phantom Thread
DCU: Suicide Squad: Hell To Pay
All the Money in the World
Proud Mary
Braven
Along With the Gods: Two Worlds
Gone Are The Days
Send Me No Flowers
My Friend Dahmer
Mohawk
The Tribes Of Palos Verdes
Crimson Peak
Ajin: Demi-human: Season 2 – Anime
Disembodied (1998)
Bad Company (1995)
Full Moon High (1981)
Up in Smoke (1978)
Enigma Rosso (1978)
Deep Red (1975)
Luther (1974)
Superbeast (1972)
Crucible Of Horror (1971)
The Psychopath (1966)
Lover Come Back (1961)
Cleopatra (1934)
All Quiet on the Western Front (1930)
Stage Struck (1925)
Manhandled (1924)
Here are last week's new Blu-ray releases in case you missed them.