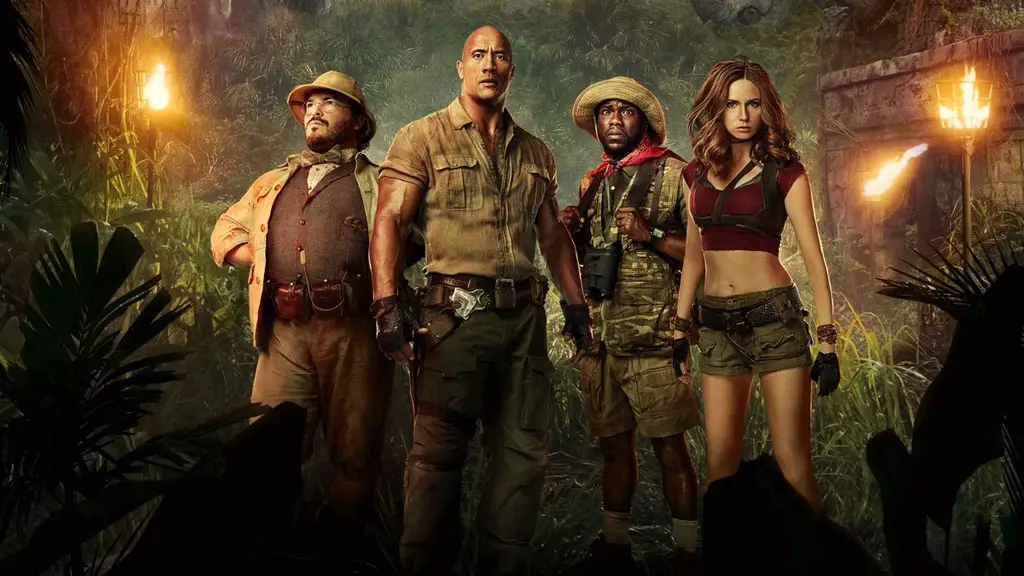 Sony Pictures' Jumanji: Welcome to the Jungle is now available to purchase in digital formats including SD, HD & 4k (UHD). The early digital access comes two weeks ahead of the Blu-ray and 4k Blu-ray releases of the film, and even includes extra bonus material from some digital video services. A sequel to Jumanji (1995) starring Robin Williams, Jumanji: Welcome to the Jungle boasts a blockbuster cast with Dwayne Johnson, Kevin Hart and Jack Black.
Here's a breakdown of details and where to buy Jumanji: Welcome to the Jungle in Digital SD, HD, and UHD.
Availability
Popular services where you can buy Jumanji: Welcome to the Jungle in digital formats include Amazon Video, Apple iTunes, Google Play, FandangoNow, Microsoft Video, Verizon FiOS On Demand, and Vudu. For those of you with Ultra HD TVs, the film is available in Digital UHD (4k) from Apple iTunes, FandangoNow and Vudu.
Bonus Material
The digital purchase of Jumanji: Welcome to the Jungle from some services includes bonus features that come with the Blu-ray Discs such as behind the scenes content, outtakes and production featurettes. Amazon Video, iTunes, Microsoft, and Vudu all include extras but they may vary. For example, Microsoft only offers one bonus featurette titled "Surviving the Jungle: The Spectacular Stunts." Check before purchasing if you really want extra content. By the way, Movies Anywhere is playing an exclusive bonus featurette titled "Nigel's Jumanji Survival Clips"
4k UHD
Apple iTunes, FandangoNow, and Vudu the only services currently offering Jumanji: Welcome to the Jungle in Digital UHD (4k), and feature HDR via Dolby Vision that extends the color range on supporting devices such as 4k HDR TVs, Apple TV 4k, iPhone 8 and iPhone X, as well as certain Android TVs, phones and tablets.
Price
Jumanji: Welcome to the Jungle in $19.99 (HD) and $14.99 (SD) from most services, and luckily the 4k/UHD format is the same price as HD from Apple and Vudu. If you want the 4k UHD version, however, stay away from FandangoNow where it's priced $10 more than iTunes and Vudu. See below for more details on pricing.
Jumanji: Welcome to the Jungle SD/HD/4k Price List*
Amazon Video – $14.99 (SD) $19.99 (HD) + Bonus & X-Ray
Apple iTunes – $14.99 (SD) $19.99 (HD/UHD) + Extras
FandangoNow – $14.99 (SD) $19.99 (HD) $29.99 (UHD)
Google Play – $14.99 (SD) $18.99 (HD)
Microsoft Video – $14.99 (SD) $19.99 (HD) + Extras
Verizon On Demand – $14.99 (SD) $19.99 (HD)
Vudu (Walmart) –$14.99 (SD) $19.99 (HD/UHD) + Extras
Bonus Materials
Outtakes
Behind the Scenes
Gag Reel
Featurettes on the A-List cast
Surviving the Jungle: The Spectacular Stunts
*Prices at time of article publication