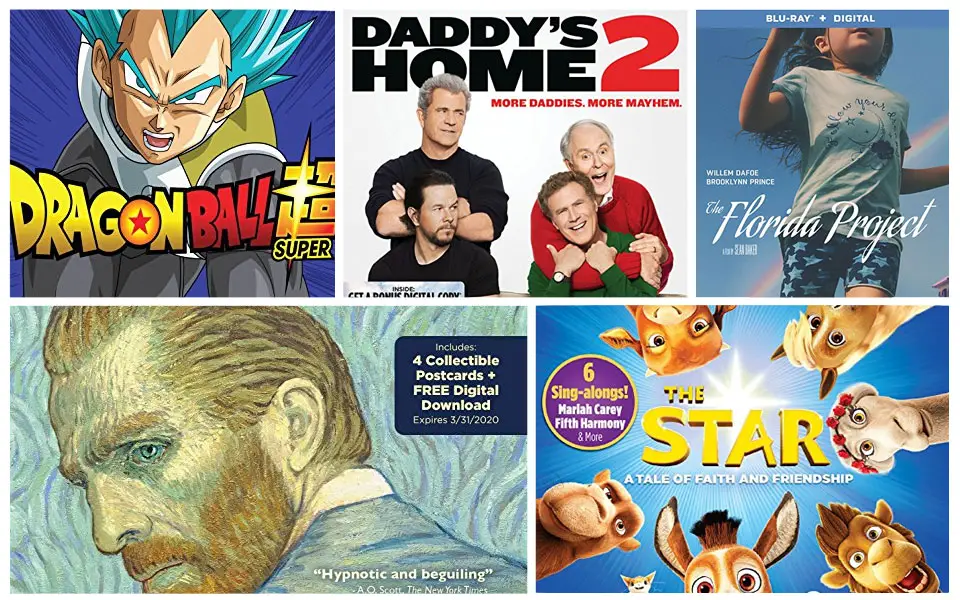 This week the holiday comedy Daddy's Home 2 starring Will Ferrell and Mark Wahlberg is among the more popular Blu-ray releases, available in a combo edition from Paramount with DVD and Digital HD copy, as well as several featurettes, gag reel, deleted, alternate and extended scenes.
Part 03 of the hit series Dragon Ball Super is now available in a 2-disc combo from Funimation with Episodes 027-039, along with the bonus Anime Expo 2017: Interview with Sean Schemmel & Jason Douglas, textless opening and closing songs, and show trailers.
2018 Oscar-nominated films The Florida Project and Loving Vincent are both available on Blu-ray, the former in a 1-disc edition from Lionsgate with a Digital HD copy and the latter in a 1-disc edition from Cinedigm with a DVD and Digital HD copy.
And, among new 4k Blu-ray releases this week are Daddy's Home and Daddy's Home 2, both formatted in 2160p with High Dynamic Range color enhancements. Daddy's Home offers English audio in DTS:X and Dolby TrueHD 7.1, while Daddy's Home 2 provides a Dolby Atmos soundtrack backed up by Dolby TrueHD 7.1.
New Blu-ray Releases: Tuesday, Feb. 20, 2018
TV Shows
Dragon Ball Super: Part Three
Midnight, Texas: Season One
Non Non Biyori: Complete Collection
Movies
The Star
Daddy's Home 2 (Ultra HD Blu-ray, Blu-ray)
The Florida Project
Loving Vincent Special Edition
Mom and Dad
Same Kind of Different As Me
Hunter x Hunter: Phantom Rouge
American Satan
The Girl Without Hands
Days Of Power
Downhill
Headgame
Guys Reading Poems
The Time of Their Lives
What Lies Upstream
Scramble
Garo: Kiba
Documentaries
Tell Them We Are Rising: The Story of Historically Black Colleges and Universities
Archive Films
Underground (1995)
A Summer Story (1988)
The Master (1984)
Eaten Alive! (1980)
The Hero (1966) – Criterion Collection
The Night Walker (1964)
An Actor's Revenge (1963) – Criterion Collection
Covered Wagon (1923)
Collections:
Daddy's Home / Daddy's Home 2 Double Feature
Farewell, My Lovely / The Big Sleep
Be sure to check out last week's new Blu-ray Disc releases.