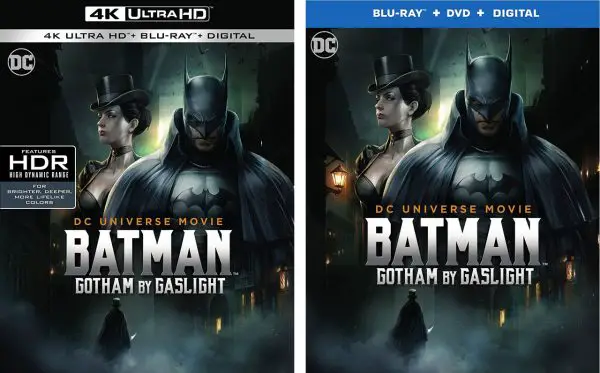 The animated adventure from DC Universe Batman: Gotham by Gaslight is slated for release to Ultra HD Blu-ray Disc on Feb. 18, about a month after it premieres on the internet in January next year. Disc release dates are a bit sketchy though, as Amazon has the Blu-ray release set to Feb. 3, 2018. And, actual premiere dates are exactly conclusive, as IMDB has the title slated for Jan. 23 on the internet (USA) and Feb. 6 (USA).
Batman: Gotham by Gaslight places the superhero in a Victorian Age Gotham City, where he tracks down historical serial killer Jack the Ripper. The film from DCU was directed by Sam Liu (Batman: Year One, Batman: The Killing Joke) and stars voiceover actors Jennifer Carpenter, Bruce Greenwood, and Tara Strong.
Bonus materials include the featurette "Caped Fear": The First Elseworld, audio commentary, a sneak peek at the next DC Universe movie Suicide Squad: Hell To Pay, and From the DC Vault – 2 bonus cartoons.
The Blu-ray combo edition, with DVD and Digital HD copy, carries an MSRP of $24.99. The 4k Blu-ray combo edition includes a Blu-ray and Digital Copy, and is list-priced at $39.99. See below for special pre-order pricing from Amazon.
Special Features
"Caped Fear": The First Elseworld (Featurette)
Batman: Gotham by Gaslight Audio Commentary
A Sneak Peek at the next DC Universe Movie, Suicide Squad: Hell To Pay
From the DC Vault – 2 Bonus Cartoons
[amazon_link asins='B077H8N7Q8,B077HKSWN3′ template='ProductGrid' store='API-user-hdr' marketplace='US' link_id='54520cc8-d271-11e7-92f9-01ab7d460f0d']