Today, after a December delay and concern about the readiness of the product, Apple launched pre-orders of the $350 HomePod. But, is the smart speaker too expensive considering Amazon and Google have already saturated the market?
Many investors and tech analysts think so. Asset manager Boris Schlossberg of FX Strategy advised that Apple is "in trouble" and that they are "making a huge mistake" betting on the high price of the HomePod given the existing market.
At $350, the entry price of the Apple HomePod is considerably more than Amazon's Echo Plus ($149) and Google's Home ($129), both of which have already been around for a while; Echo released (to select customers) back in Nov. 2014, while Home launched in Nov. 2016. That puts Apple just over three years behind Amazon — a lifetime in the tech industry.
Apple also fell way behind with an update to Apple TV that supports 4k, and, came in over-priced than competing devices from Amazon, Google and Roku. How can the company continually show up late and charge more? Maybe you should ask Siri.
The HomePod sure does look pretty though, and Apple's transparent view of the speaker on their website reveals an impressive design and components such as a seven-tweeter array, six-microphone array, high-excursion woofer for deep base sound, and Apple A8 chip.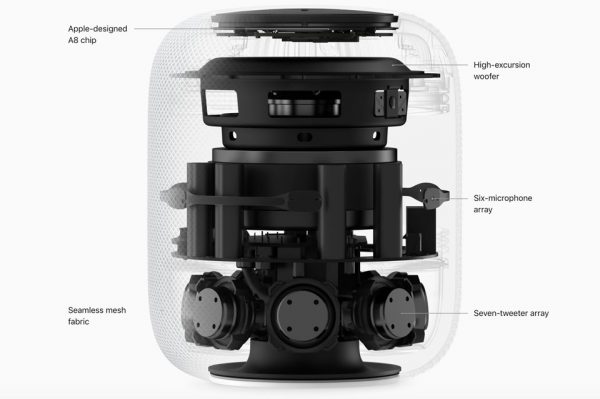 The HomePad lets users control smart lighting systems, stream music from Apple Music (the paid version only, argghh), and send messages through WhatsApp. Apple says later this year you'll be able to link two HomePods together (through AirPlay 2) for multi-room control and "stereo" listening (that'll cost you $700 U.S. sir, there's no discount for a second 'Pod').
What will really matter though is how well the HomePod recognizes speech. If the speaker works remarkably better than Echo or Home it may be worth the extra $200 or more over Echo and Home. Unless, of course, you're one of those Apple people who have to have the brand no matter what the cost. Apple customers are incredibly loyal to the company, and Apple products have always had an edge on design.
The HomePod will be available, in either white and space gray finish, starting February 9, 2018.