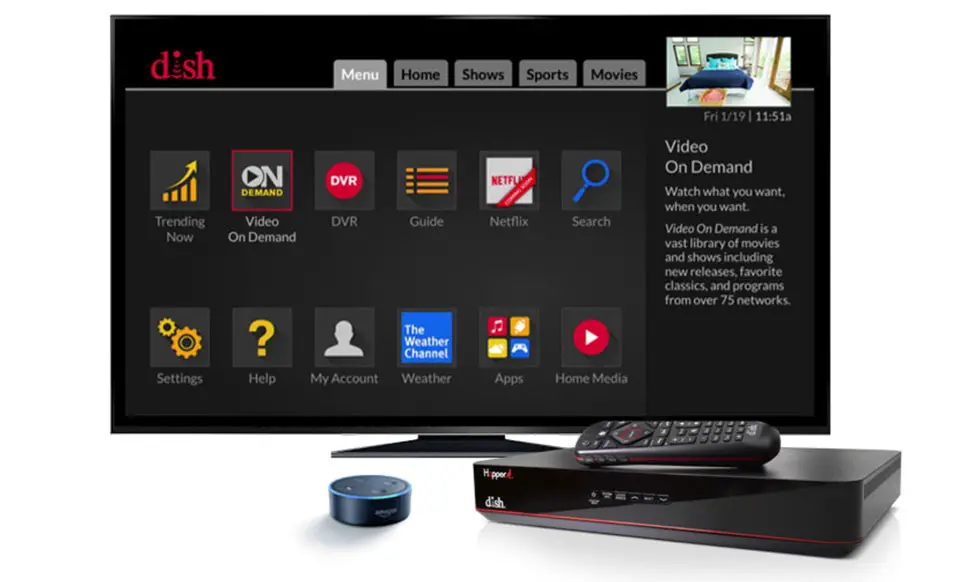 Designed for one or two-TV households, the Hopper Duo Smart DVR launched today with features of the Hopper 3 for smaller home entertainment systems.
Features of the Duo Smart DVR include the Hopper UI (User Interface), 500GB hard drive for up to 125 hours of HD DVR recording, universal search, Wi-Fi capability, Bluetooth audio support via adapter, Picture-in-Picture viewing, Remote Finder, Amazon Alexa compatibility, and support for apps like Game Finder and Pandora.
The Duo Smart DVR comes complete with Dish's new voice remote, and, Dish says support for Netflix on the Hopper Duo is coming soon.
Also Read: How To Program the Dish Voice Remote
Dish's Hopper Duo supports a second HD TV when paired with a Joey (Joey, 4K Joey or Wireless Joey). Because the Hopper Duo features two tuners, viewers can watch or record two live programs at the same time. And, if a customer is recording two live shows they can still watch any On Demand content or recorded content from their DVR.
"The average US home has about two TVs connected to a pay-TV service," said Niraj Desai vice DISH vice president of product management. "Hopper Duo is a feature-rich, high-value product for households that want DVR capacity for only one or two screens."
What does it cost? Customers who order the Hopper Duo system must pay a whole-home DVR fee of $10 per month and an additional $7 per month for an added Joey.