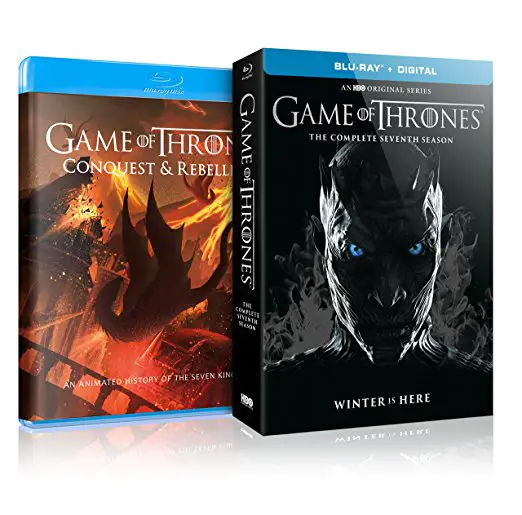 Looking for the perfect holiday present for a Game of Thrones fan? Hot off the shelves you can get Game of Thrones: Season 7 with Conquest & Rebellion for only $39.99 (List: $74.99), or, Game of Thrones: The Complete Seasons 1-7 for only $139 (List: $229).
Both of these Game of Thrones editions are brand new today. And, the discounted titles together reflect a savings of $135 off the list prices. The Complete Seasons 1-7 certainly seems like a deal considering it contains approximately 3,400 more minutes than Season 7 with the Conquest & Rebellion bonus disc.
For more details on the limited edition bundle see Game of Thrones Bundle Includes Conquest & Rebellion & Digital Copies. For more info on the collected series read Game of Thrones: Seasons 1-7 to Release on Blu-ray.
Excited about Season 8 of Game of Thrones (or what some call Season 7, Part 2?) You might have to wait until 2019 as actress Sophie Turner recently revealed the final season may not be premiering for at least another year.