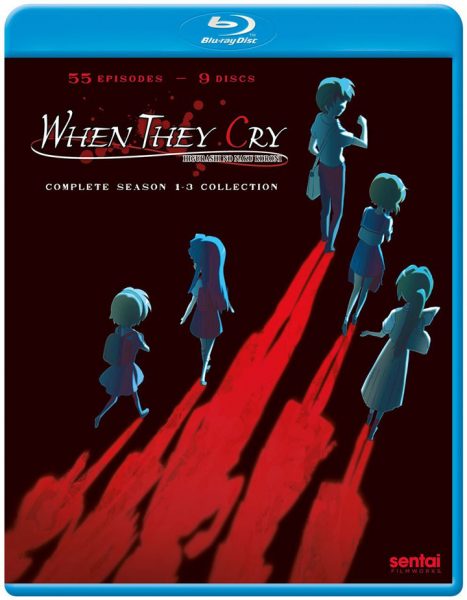 Section 23 has released all three seasons of the Japanese anime series When They Cry to a multi-disc Blu-ray edition. When They Cry: Complete Collection contains 55 episodes of the show including 1 through 26 of Season 1, 1 through 24 of Season 2, and OVA episodes 1 through 5 of Season 3.
Totaling over 1,400 minutes, the collection also includes a Clean Opening Animation and Clean Closing Animation of When They Cry.
In terms of specs, video is presented in 1080i at 16×9 widescreen aspect ratio. The audio for Season 1, in both English and Japanese, is provided in DTS-HD Master Audio 2.0. Audio for seasons 2 and 3 are also provided in DTS-HD Master Audio 2.0, but only in Japanese language. However, English subtitles are provide for all episodes.
When They Cry: Complete Collection on Blu-ray has a list price of $129.99 but is selling for $87 from Amazon (see below for updated pricing).
Synopsis:
It's hard enough moving to a town where everyone has known each other their entire lives. Ever since Keiichi arrived in the picturesque town of Hinamizawa, he keeps discovering ominous happenings that don't make any sense. Unsolved murders. Disappearances. Mutilations. The worst part is that he can't be sure whether or not his new friends like Rena, Mion, Satoko, and Rika are aware of the events or involved in what's happening. All he knows is that it's not paranoia if someone really is trying to kill him, and escaping Hinamizawa alive may no longer be an option. All the buried secrets will be revealed, and all the horrors will be unleashed as the entire epic horror series that shocked Japan finally becomes available as a complete collection!
[amazon_link asins='B0753FDK2M' template='ProductGrid' store='API-user-hdr' marketplace='US' link_id='3f7b2076-df79-11e7-a869-7f6669aba1e1′]