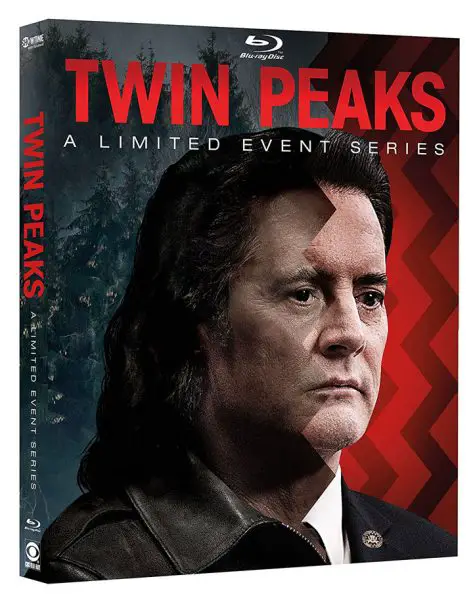 Paramount and Showtime Entertainment are releasing Twin Peaks: A Limited Event Series to Blu-ray Disc and DVD as 8-disc editions with a run time of over 1,000 minutes. Each boxed set contains all 18 parts of the limited event series, as well as over 6 hours of special features. In addition, the Blu-ray version contains another hour-and-a-half of bonus material.
The Blu-ray has a list price of $64.99 and the DVD edition $63.99. Pre-orders can be purchased for $55.97 (Blu-ray) and $47.26 (DVD). See updated pricing from Amazon below.
Twin Peaks: A Limited Event Series hits stores in both disc formats on Tuesday, December 5, 2017.
Twin Peaks: A Limited Event Series Bonus Features:
IMPRESSIONS: A Journey Behind the Scenes of Twin Peaks
The Man with the Grey Elevated Hair (29:40)
Tell it Martin (29:08)
Two Blue Balls (24:14)
The Number of Completion (29:17)
Bad Binoculars (28:08)
See You on the Other Side Dear Friend (30:00)
Do Not Pick Up Hitchhikers (26:44)
A Bloody Finger in Your Mouth (26:49)
The Polish Accountant (28:05)
A Pot of Boiling Oil (38:32)
Phenomenon
Part 1: Creation (4:40)
Part 2: Life After Death (4:50)
Part 3: Renaissance (4:50)
Behind-the-scenes Photo Gallery
– Rancho Rosa Logos (2:25)
– San Diego Comic-Con 2017 Twin Peaks Panel (61:26)
– David Lynch Produced Promos
Piano (1:02)
Donut (:32)
Woods (:32)
People (:32)
Places (:32)
Albert (1:02)
In – cinema (1:32)
Blu-ray Exclusive Content:
A Very Lovely Dream: One Week in Twin Peaks (27:09)
Behind the Red Curtain (29:17)
I Had Bad Milk in Dehradun (28:11)
[amazon_link asins='B076M4XM6H,B076M95GY6′ template='ProductGrid' store='API-user-hdr' marketplace='US' link_id='95e83f83-c313-11e7-96e2-aff3fb482d06′]