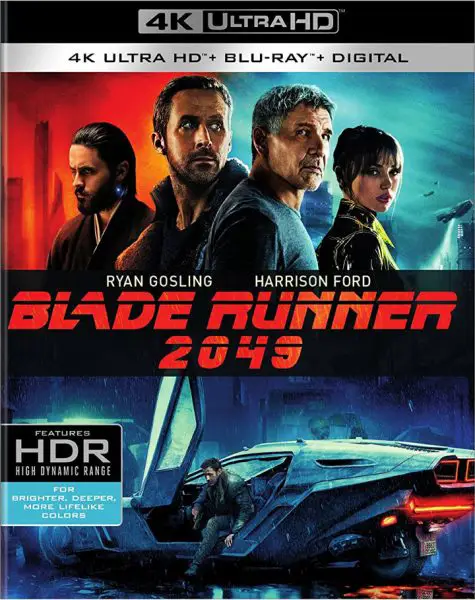 Still in movie theaters nationwide, Warner Bros.' Blade Runner 2049 is now available to pre-order from Amazon and likely other retailers in the near future. The film has received high scores from critics and fans alike, including a 3.5/4 score from Roger Ebert and 88% rating on Rotten Tomatoes.
On Ultra HD Blu-ray, Blade Runner 2049 features High Dynamic Range color via the HDR10 spec, and, a Dolby Atmos soundtrack (backed by Dolby TrueHD 7.1) like the recent 4k release of Blade Runner (1982).
Blu-ray bonus material includes the featurettes, The Replicant Evolution, Blade Runners, The Rise of Wallace Corp, Welcome to 2049, Jois, Within the Skies: Spinners, Pilotfish, Barracudas, Designing the World of Blade Runner 2049 and To be Human: Casting Blade Runner 2049.
There are also three Prologues including 2022: Black Out (Anime), 2036: Nexus Dawn, and 2048: Nowhere To Run.
Blade Runner 2049 can be pre-ordered from Amazon for $27.99 (Blu-ray) or $44.99 (4k Blu-ray), although we expect those prices to drop before actual ship date, which means you will pay the lowest price the title is being sold for up until release date.