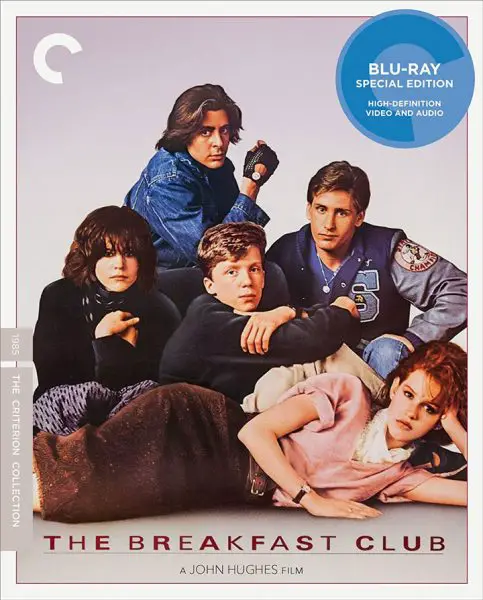 The quintessential John Hughes movie of the eighties, Criterion Collection has remastered The Breakfast Club (1985) for release on Blu-ray Disc. The movie features an impressive cast of actors who were popular in the eighties and beyond including Emilio Estevez, Molly Ringwald, Judd Nelson, Ally Sheedy, and Anthony Michael Hall.
The Criterion release, presented in 1080p on Blu-ray from a new 4k digital restoration, includes an uncompressed monaural soundtrack with alternate 5.1 surround sound in DTS HD Master Audio.
There are plenty of bonus features on this special edition, such as new interviews with actors, 50 minutes of never-before-seen deleted and extended scenes, a new video essay with director John Hughes, and documentary from 2015 featuring interviews with cast and crew.
The Breakfast Club from Criterion Collection on Blu-ray carries an MSRP of $39.99, but the title currently available to pre-order for $28.35 (see below for updated Amazon pricing).
Blu-ray Special Features
– 4K digital restoration, with uncompressed monaural soundtrack
– Alternate 5.1 surround soundtrack, presented in DTS HD Master Audio
– Audio commentary from 2015 featuring actors Anthony Michael Hall and Judd Nelson
– New interviews with actors Molly Ringwald and Ally Sheedy
– New video essay featuring director John Hughes' production notes, read by Nelson
– Documentary from 2015 featuring interviews with cast and crew
– 50 minutes of never-before-seen deleted and extended scenes
– Rare promotional and archival interviews and footage
– Excerpts from a 1985 American Film Institute seminar with Hughes
– 1999 radio interview with Hughes
– Segment from a 1995 episode of NBC's Today show featuring the film's cast
– Audio interview with Molly Ringwald from a 2014 episode of This American Life
– PLUS: An essay by critic David Kamp
What happens when you put five strangers in Saturday detention? Badass posturing, gleeful misbehavior, and a potent dose of angst. With this exuberant film, writer-director John Hughes established himself as the bard of American youth, vividly and empathetically capturing how teenagers hang out, act up, and goof off. The Breakfast Club brings together an assortment of adolescent archetypes the uptight prom queen (Molly Ringwald), the stoic jock (Emilio Estevez), the foul-mouthed rebel (Judd Nelson), the virginal bookworm (Anthony Michael Hall), and the kooky recluse (Ally Sheedy) and watches them shed their personae and emerge into unlikely friendships. With its highly quotable dialogue and star-making performances, this film is an era-defining pop-culture phenomenon, a disarmingly candid exploration of the trials of adolescence whose influence now spans generations.
[amazon_link asins='B076F3Y3H3′ template='ProductGrid' store='API-user-hdr' marketplace='US' link_id='666f8b24-ba22-11e7-bbd1-9ddefe0c9b3e']