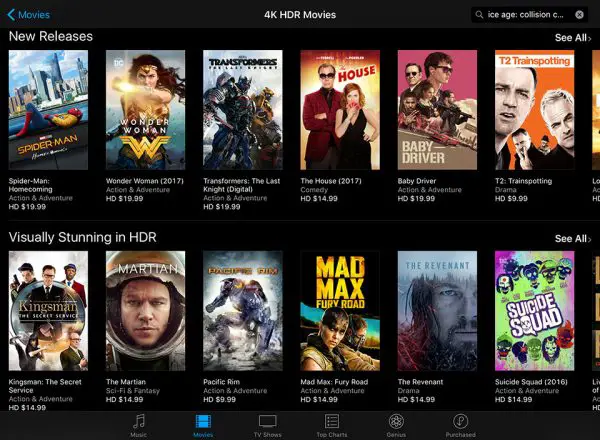 Along with the release of the Apple TV 4k, iTunes has launched an extensive library of popular movie titles in 4k resolution, with all of those titles featuring HDR (High Dynamic Range) color enhancements for TVs and smartphones that support the format.
Movies now available on iTunes in 4k include new releases such as Baby Driver, Wonder Woman, and T2 Trainspotting, as well as a few remastered classics such as Close Encounters of the Third Kind, Goodfellas, and Starship Troopers. Movies cost $9.99 to $19.99, and Apple does not price 4k movies differently than HD (a surprise announcement at Apple's recent event).
The majority of the movies are encoded with HDR from Dolby Vision, but some utilize the open standard HDR10 specification. Luckily for the Apple TV 4k it supports both formats, unlike the new Fire TV which developers chose to launch with only support for only HDR10.
iTunes on PCs still doesn't supply all technical information about 4k titles, as in resolution and download size (although 720p and 1080p specs are still provided). However, iTunes on iPhone and iPads indicates whether a title is available in 4k or not, and whether HDR is included via Dolby Vision or HDR10. The newest version of iTunes for Macs/PCs doesn't even provide HDR info yet.
Keep in mind though that smartphones, tablets, and laptops can support HDR without being in 4k resolution. The Mobile HDR Premium standard released earlier this year specs video at 60 pixels/degree with a dynamic range of 0005-540 nits. Only a few smartphones support HDR anyway, including iPhone X, LG G6, Sony Xperia XZ and Samsung Galaxy Note 8
On the audio side, Apple TV 4k is still behind competitors with no support yet for DTS:X or Dolby Atmos, two immersive formats that allow multichannel audio including sound perceived to be from overhead.
Want to know if your favorite title is available in 4k from Apple? Refer to this list of 4k/HDR Movies on iTunes.