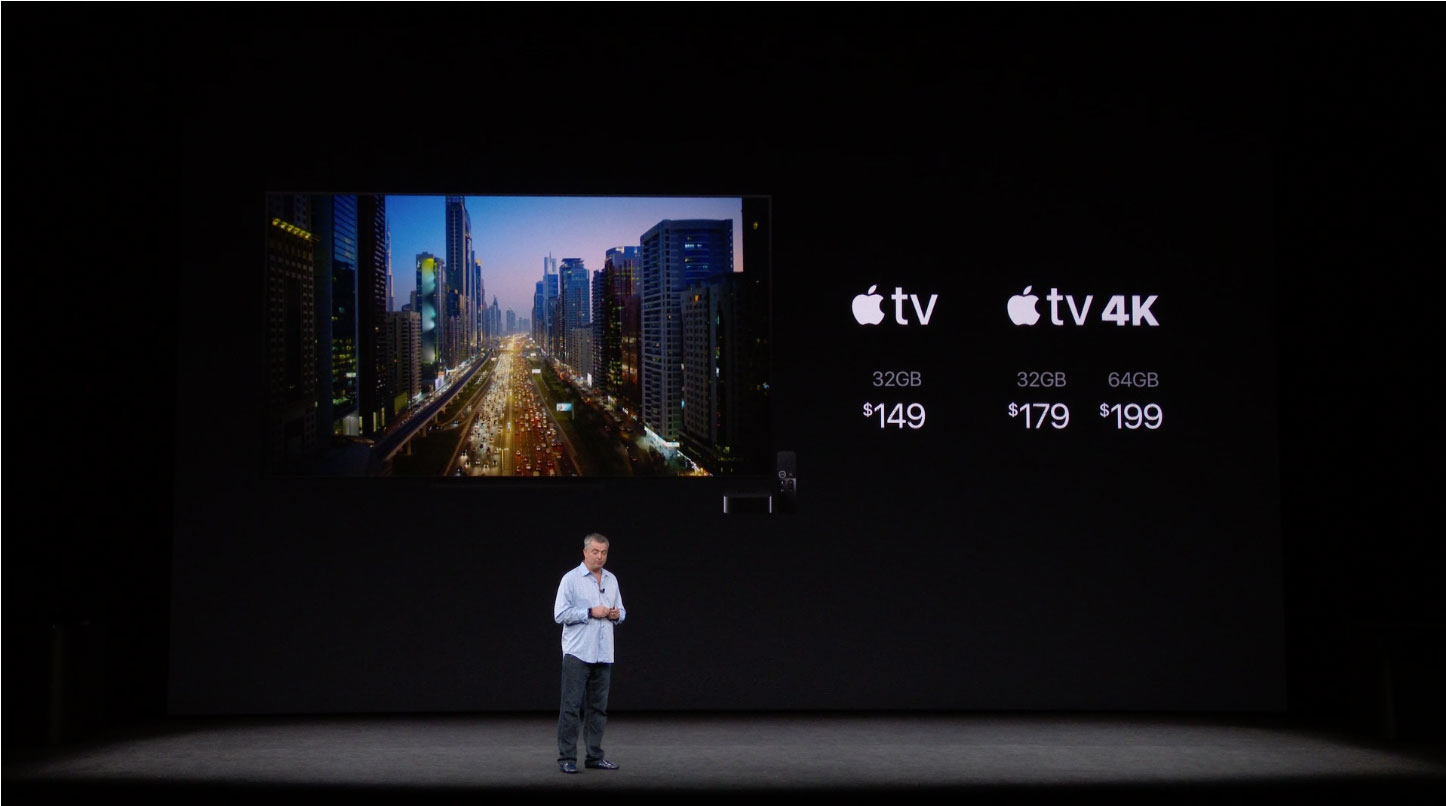 Tim Cook primed the new Apple TV at the Apple event on Tuesday, Sept. 12, but when he brought on Eddy Cue to announce the details it almost seemed as if we traveled back in time. 4k, High Dynamic Range — these are technologies TV manufacturers have been talking about since CES 2014.
As expected, the Apple 4k TV will support 4k (2160p) and HDR (Dolby Vision & HDR10) content from apps like Netflix, Amazon, and ESPN. The company also boasted major studio content partners including 20th Century Fox, Lionsgate, Paramount, Universal, Warner Bros. and Sony Pictures.
But, what might be the biggest surprise of the announcement is the price of 4k content. While other services such as Google Play and Vudu sell 4k movies for $29.99, Apple said the format will be the same price as HD (1080p), which usually range from $14.99 to $19.99 for new titles.
What's more, Apple is going to automatically upgrade HD-purchased titles to 4k at no charge. This is a game changer, and one that execs at other video services will be balking about all week as they figure on how to sell 4k movies for the same price as HD.
Apple also confirmed Amazon Video content will be available on Apple TV later this year, so Amazon customers will be able to access their movie and TV show libraries on the platform (presumably in 4k with HDR).
What else is new?
The CPU (using the A10X fusion chip) on the new Apple TV is 2x faster than the existing model, while graphics processing is 4x faster.
Apple brags about content from over 60 services on Apple TV. And, they've upgraded the user interface with all 4k graphics (wow).
Apple is bringing Apple TV to seven more countries including Canada and Australia later this month, as well as adding more local app services.
Live sports and live news are also coming to Apple TV, with personalized content and easy access to events and channels.
They are also pushing games again, easily playable with the Apple TV Remote, iPad and iPhone.
What isn't new is the design of the media player or remote. They look exactly the same (and measure the same) as the 4th-generation model.
The new Apple TV is priced at $179 (32GB) and $199 (64GB), available on Sept. 22, 2017.
The existing Apple TV (32GB) is priced $149. It appears the existing 64GB Apple TV is being phased out.
Also Read: What's Different About Apple 4k TV?