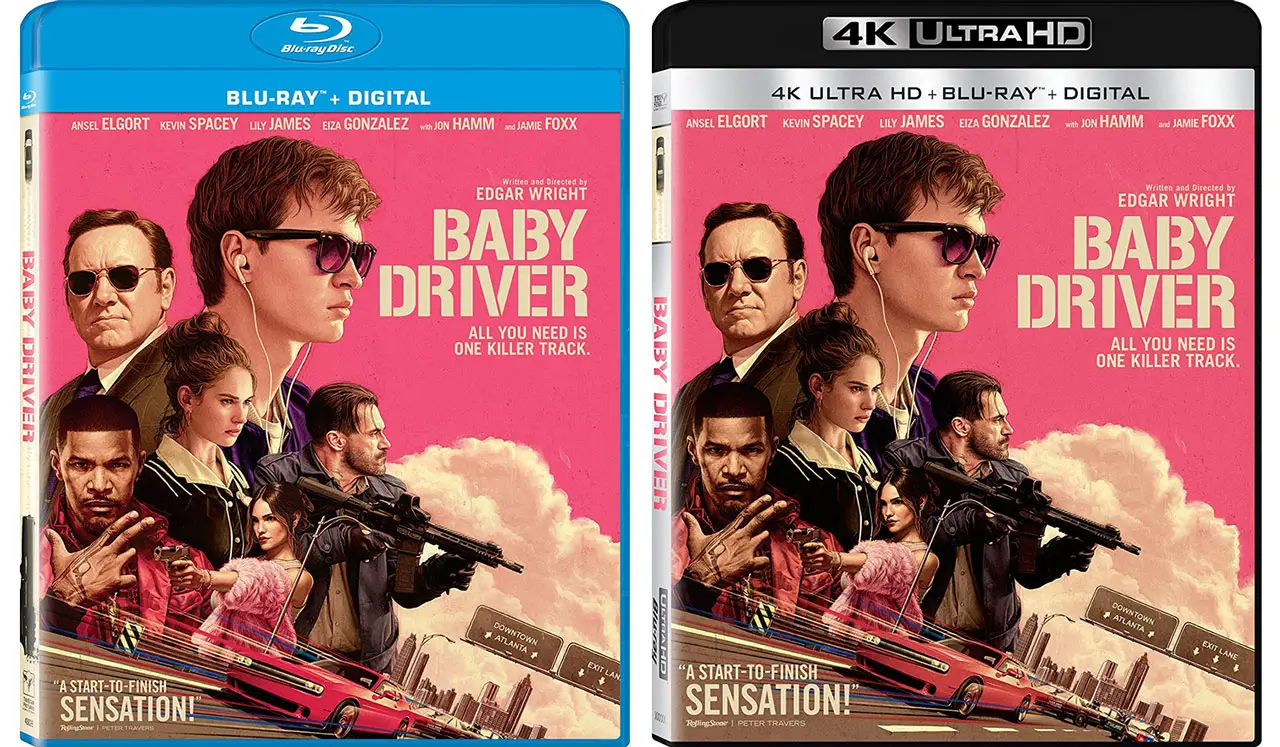 Sony Pictures' Baby Driver is coming to Blu-ray, 4k Ultra HD Blu-ray, and DVD on October 10, 2017. The film, earning over $100M at the US box office, stars Ansel Elgort as expert driver "Baby" who is forced to work for a crime syndicate. The movie also stars Jon Bernthal, Jon Hamm and Kevin Spacey.
The Blu-ray (1080p) edition of Baby Driver doesn't pack a DVD copy like traditional combo editions, but does include a Digital HD copy. However, the 2-disc Ultra HD Blu-ray edition includes a Blu-ray and Digital Copy along with the 4k Blu-ray disc.
Extra bonus material on the Blu-ray releases of Baby Driver is quite extensive, with 20 minutes of deleted and extended scenes, director and filmmaker commentary, a storyboard gallery, video, and lots of production featurettes (see below for details).
The Ultra HD Blu-ray edition of Baby Driver is presented in 2160p using HEVC H.265 video encoding. We're still waiting on confirmation of audio formats on the Blu-ray editions.
Baby Driver on Blu-ray is priced $19.96, while the Ultra HD Blu-ray edition is priced $29.99 (see below for most recent pricing from Amazon).
Best Buy is also selling an exclusive Steelbook edition of Baby Driver that features custom artwork on the cover (see below for art). That Steelbook edition is selling for $31.99.
Baby Driver Special Features: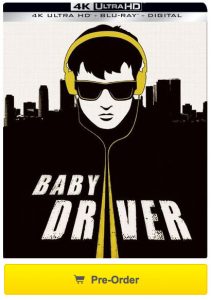 Extended/Deleted Scenes – 20 minutes of extended scenes and a few moments that were dropped from the final cut.
Mozart In A Go-Kart: Ansel Drives – Ride shotgun with star Ansel Elgort as he works with the talented stunt drivers to become the ultimate getaway driver.
I Need A Killer Track: The Music – Explore how the film's phenomenal soundtrack dictated both the writing process and all aspects of production on Baby Driver.
That's My Baby: Edgar Wright – Follow Edgar Wright's vision of Baby Driver from its inception two decades ago, to its ultimate realization on the big screen.
Meet Your New Crew: Doc's Gang – Led by powerhouse Kevin Spacey, the cast assembled to form Doc's gang is perfectly constructed with stars like Jamie Foxx and Jon Hamm as well as up and coming talent like Eiza González and Jon Bernthal. Go behind the scenes to see this talented group at work as they bring these characters to life.
Find Something Funky On There: The Choreography – With every frame of Baby Driver set to a specific beat it took precise choreography by the cast, crew and editors to create a cinematic dance like nothing that's been done before. Hear from the choreographer and filmmakers on this groundbreaking process.
Devil Behind The Wheel: The Car Chases – From closing down Atlanta's interstates to creating eyepopping maneuvers for a variety of vehicles, witness the amazing craftsmanship and sheer determination that made the film's incredible car chases possible.
Animatics – Check out over 35 minutes of the numerous pre-vis animatics developed by Edgar Wright as part of his meticulous preparation.
Ansel Elgort Audition – See firsthand the audition that proved without a doubt that Ansel Elgort was the perfect choice for Baby.
Annotated Coffee Run Rehearsal – Day one of production involved one of the film's most elaborately choreographed sequences where every movement is carefully crafted. Check out the preliminary rehearsal and see the behind the scenes movement in concert with Ansel Elgort's on camera choreography.
Hair, Make Up & Costume Tests – In this stylized montage, witness the transformation of the actors through costume, hair and make-up tests.
Mint Royale – "Blue Song" Music Video – This music video directed by Edgar years ago for the band Mint Royale showcases some early inspiration for Baby Driver.
Complete Storyboard Gallery – See the elaborate storyboards developed for the film in this gallery featuring storyboards for the entire film.
Director Commentary
Filmmaker Commentary (Edgar Wright and Director of Photography Bill Pope)
[amazon_link asins='B073BWHCR8,B073BXVX2J' template='ProductGrid' store='API-user-hdr' marketplace='US' link_id='999cd9f6-98b7-11e7-9a0b-279402ecdc62′]