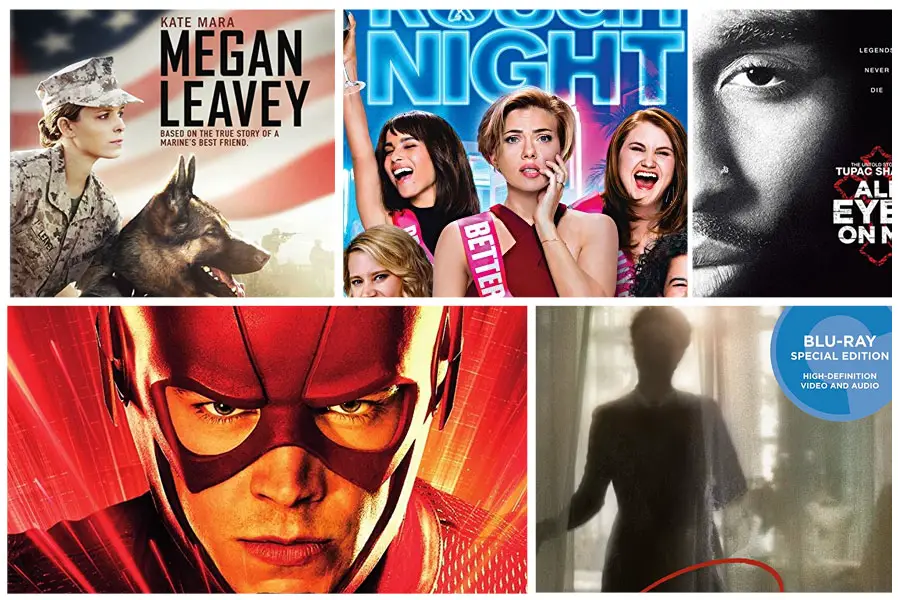 This week on Blu-ray there are several 4k Blu-ray discs to choose from as well as close to 40 standard Blu-ray releases.
On standard Blu-ray popular new movies include the moving story of a bond between dog and soldier in Megan Leavey, the life of artist Tupace Shakur told in All Eyez On Me, the comedy Rough Night starring Scarlett Johansson and Kate McKinnon,
From TV series DC's The Flash Season 3 is now available on Blu-ray, as well as the 12th season of Supernatural, the 20th season of South Park, and from Netflix the second season of Narcos.
There are also plenty of older films getting the high-def treatment on 1080p Blu-ray including Criterion Collection's release of Alfred Hitchcock's 2-time Oscar winning film Rebecca (1940), Sydney Pollack's Oscar-winning film They Shoot Horses, Don t They? (1969), and film-noir classic Crime of Passion (1957) from director Gerd Oswald.
On Ultra HD Blu-ray this week we have the releases of Blade Runner: The Final Cut, Minions, Rough Night, Red and Red 2, The Cabin in the Woods, and a special Premium Edition of Kingsman: The Secret Service.
New on Blu-ray & 4k Blu-ray, Sept. 5, 2017
Ultra HD Blu-ray
Blade Runner: The Final Cut
Minions
Red
Red 2
Rough Night
The Cabin in the Woods
Kingsman: The Secret Service Premium Edition
Blu-ray
TV Shows / Series
The Flash: The Complete Third Season
Supernatural: The Complete Twelfth Season
Masterpiece Mystery!: Endeavour Season 4 (UK- Length Edition)
Narcos: Season Two
South Park: The Complete Twentieth Season
Movies
Megan Leavey
All Eyez On Me
Rough Night
Score: A Film Music Documentary
Rare: Creatures of the Photo Ark
Lowriders
First Kill
Security
A Dark Song
Last Face
Band Aid
Iron Protector
Chronically Metropolitan
Ogar: Will of Steel
Paris Can Wait
The Atoning
Austin Found
Spookley The Square Pumpkin
Baby Bump
Master
Maurice (1987)
Mr. Mom (1983)
The Spell (1977)
They Shoot Horses, Don t They? (1969)
The Birthday Party (1968)
Crime of Passion (1957)
The Big Knife (1955)
Rebecca (1940)
Anime
Mobile Suit Zeta Gundam: A New Translation
Good Witch of the West: Complete Collection