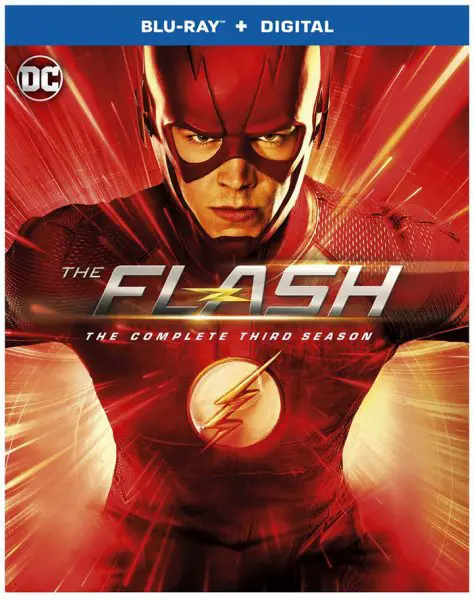 CW's The Flash will release its third season consisting of twenty three 1-hour episodes to Blu-ray Disc. The 4-disc set from Warner Bros. Home Entertainment will hit stores on September 5, 2017.
The episodes in The Flash: The Complete Third Season are formatted in 1080p video resolution at 1.78:1 widescreen aspect ratio, backed by an English DTS-HD Master Audio 5.1 soundtrack.
There's quite a bit of extra bonus material on this release, including deleted scenes, a gag reel, "The Flash: 2016 Comic-Con Panel," and "Villain School: The Flash Rogues" among other featurettes.
And, digital copies of the third season episodes will be provided via a redemption code with UltraViolet partners.
The Blu-ray edition is currently available to pre-order from Amazon for $35.51.
Flash Season 3 Blu-ray Bonus Material
ALL 23 one-hour episodes
The Flash: 2016 Comic-Con Panel
A Flash in Time: Time Travel in the Flash Universe
Villain School: The Flash Rogues
Allied: The Invasion Complex (The Flash)
Rise of Gorilla City
The Flash: I'm Your Super Friend
The Flash: Hitting the Fast Note
Harmony in a Flash
Synchronicity in a Flash
Deleted Scenes
Gag Reel