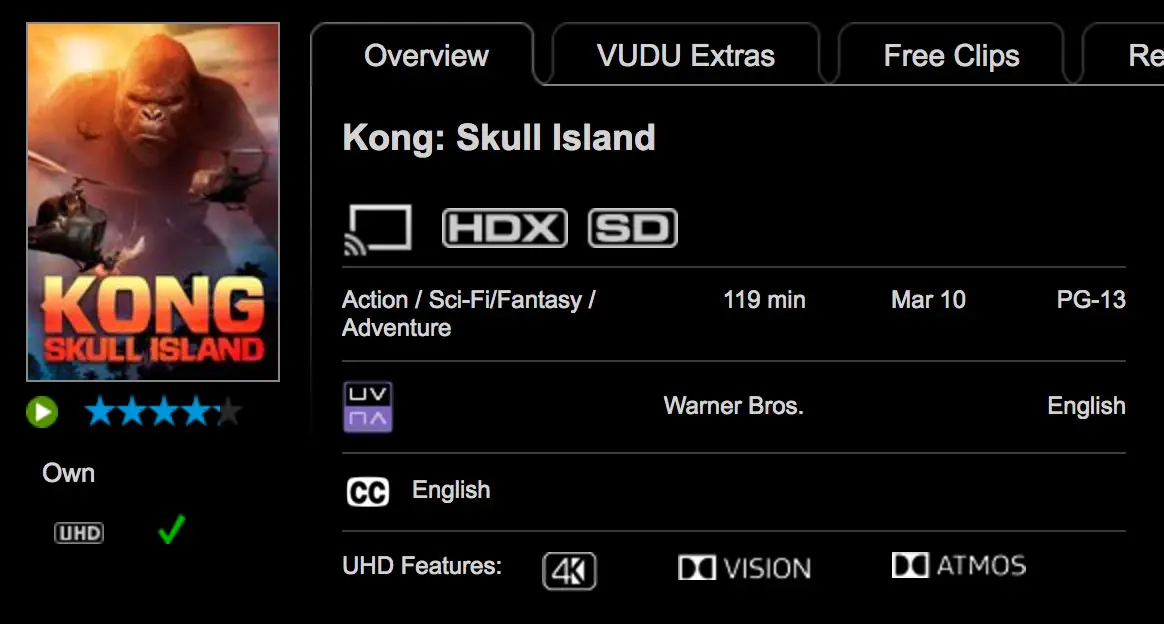 Vudu has been a bit of a pioneer when it comes to digital movie distribution, first offering 4k UHD movies with Dolby Vision and Dolby Atmos almost two years ago. The dual combo allows for greater color depth (via HDR) and multichannel immersive surround sound that comes even from above!
Now, Vudu has over 30 titles with the Dolby combo (we counted 35) among their over 100 Digital UHD titles available. Some of the new Dolby-injected movies really stand out from the crowd, including Kong: Skull Island, Guardians of the Galaxy Vol. 2, Fantastic Beasts and Where to Find Them, and Ghost in the Shell (2017), to name a few.
Most of the Digital 4k titles from Vudu cost $29.99 each (this is common among other 4k providers), with the exception of GOTG Vol. 2 that is $5 cheaper than most new movies.
However, not every 4k TV or device will play back the Dolby combo. Be sure to check for compatibility before spending $30 bucks.
Dolby Vision through Vudu is limited to certain LG and Vizio 4k HDR TVs as well as Google's Chromecast Ultra media player. Here's a list of TV devices compatible with Vudu's UHD format with and without Dolby Vision/HDR. Your sound system must also be compatible to support Dolby Atmos to get the full channel surround sound.
Vudu Digital UHD (4k) Titles with Dolby Vision / Dolby Atmos
American Sniper
Batman v Superman: Dawn of Justice
CHiPs
Entourage
Everest
Fantastic Beasts and Where to Find Them
Ghost in the Shell
Guardians of the Galaxy Vol. 2
In the Heart of the Sea
Into the Storm
Jack Reacher: Never Go Back
Jupiter Ascending
Kong: Skull Island
Live By Night
Live Die Repeat: Edge of Tomorrow
Lucy
Mad Max: Fury Road
Man of Steel
Oblivion
Pacific Rim
Pan
Pets
San Andreas
Sing
Star Trek Beyond
Suicide Squad
Sully
The Great Wall
The Legend of Tarzan
The LEGO Batman Movie
The Magnificent Seven (2016)
The Man from U.N.C.L.E.
Warcraft
We Are Your Friends
xXx: The Return of Xander Cage
Learn more: What is Dolby Vision? What is Dolby Atmos?