This coming Tuesday, August 15th will bring the biggest week of new 4k Blu-ray releases this month with two Ridley Scott films (Alien: Covenant and Prometheus), the Western Hickok, and the crime drama The Lincoln Lawyer. Both of Scott's films feature HDR color specs for TVs that support the format, indicated by the "Ultra HD Premium" sticker found on the cases.
Other 4k Blu-ray releases this month include Guardians of the Galaxy: Vol. 2 (Aug. 22), Batman & Harley Quinn (Aug. 29) and Baywatch (Aug. 29).
Here's an overview of Tuesday's new 4k Blu-ray titles with tech specs, bonus material, and pricing.
Alien: Covenant
Alien: Covenant (2017) is one of the more exciting 4k Blu-ray releases especially given the exclusive editions from Best Buy, Target, and Walmart. The 4k release on Aug. 15 features 2160p video resolution enhanced with HDR color specs. And, the soundtrack can be played in Dolby Atmos or Dolby TrueHD 7.1 (depending on audio system), or Dolby Digital 5.1 in either Spanish or French. Extras include a Digital HD copy (hopefully that will redeem in UHD), a dozen deleted and extended scenes, featurettes "USCSS Covenant" and "Sector 87 – Planet," a documentary on the making of the film with Ridley Scott, commentary from Scott, and a production gallery. MSRP: $39.99 (the common edition)
Hickok
Hickok (2017) is a Western from director Timothy Woodward Jr. based on the Old West folk hero Wild Bill Hickok. The film stars Luke Hemsworth as "Wild Bill" along with Trace Adkins, Bruce Dern, and Kris Kristofferson. The Ultra HD Blu-ray edition is formatted in 2160p resolution at 2.39:1 aspect ratio with a soundtrack in DTS-HD Master Audio 5.1. As far as we know there are no High Dynamic Range (HDR) color enhancements. The 2-disc set from Cinedigm does include a 1080p Blu-ray copy, but unfortunately not a Digital Copy as far as we know. Another bummer is that we haven't found the edition to include any bonus materials, but we'll update this article if we find otherwise. MSRP: $34.99
Prometheus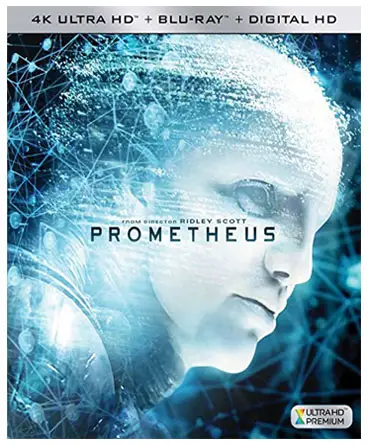 The prequel to Alien: Covenant, Prometheus (2012) was one of the best looking Blu-ray Disc releases of 2012. On August 15, the film will be available to purchase in Ultra HD Blu-ray, with 4-times the resolution of 1080p and HDR color enhancements. Unfortunately, this combo edition from 20th Century Fox doesn't include a 3D disc, but it does include a Digital Copy that we hope will provide a Digital UHD (4k) copy as well. Another downer may be that the soundtrack will likely not be upgraded to Atmos or DTS:X, simply because the film was originally presented in Dolby Surround 7.1. Extras will probably be the same as the last Blu-ray releases. MSRP: $39.99
The Lincoln Lawyer
The Lincoln Lawyer (2011) on Ultra HD Blu-ray is one of the cheapest new 4k titles we've seen so far. Currently selling for $16.99 (Amazon) and $17.99 (Best Buy), the 2-disc edition from Lionsgate includes both Blu-ray and Digital copies so you can play the film virtually anywhere. The soundtrack is enhanced with Dolby Atmos audio (backed by Dolby TrueHD 7.1) with video presented in 2160p at 2.35:1 aspect ratio. No HDR specs as far as we know. Bonus material includes deleted scenes along with featurettes "Making the Case: Creating The Lincoln Lawyer," "At Home on the Road," and "One On One." The Lincoln Lawyer stars Matthew McConaughey as Mick Haller, a homeless defense lawyer put on the case of a wealthy realtor accused of assaulting a prostitute. MSRP: $22.99
[amazon_link asins='B06Y1WXP23,B0722H3X49,B071VSDK7R,B0727XL54D' template='ProductGrid' store='API-user-hdr' marketplace='US' link_id='2ed8fdac-81d1-11e7-b520-2107c5793756′]