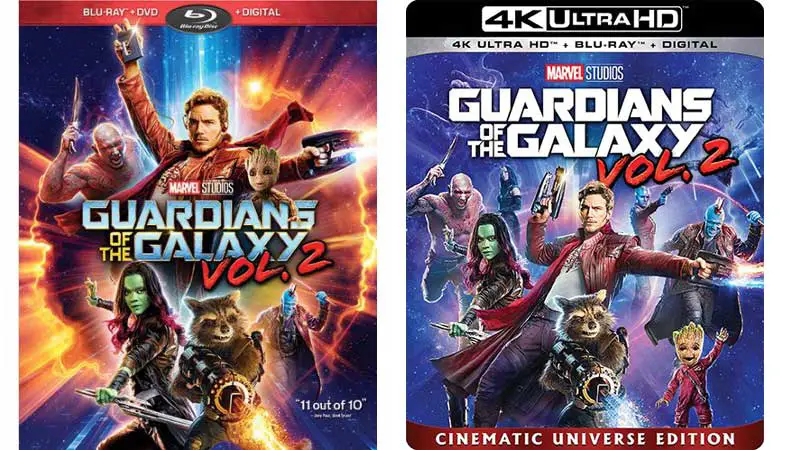 For fans of movies based on comic books, Guardians of the Galaxy Vol. 2 was one of the most anticipated films of the summer. The film, still in some theaters nationwide, gets 81% on the Rotten Tomatoes Tomatometer and a 90% Audience Score. Now, we've got the release date and details for Guardians of the Galaxy Vol. 2.
Disney will first release Guardians of the Galaxy Vol. 2 digitally on August 8th, followed by Blu-ray Disc, 4k Blu-ray (with 3D Blu-ray), and DVD on August 22, 2017. (Pre-order here.)
On digital, Guardians of the Galaxy Vol. 2 will be available in Digital SD, HD and UHD through specific video services. The Digital UHD format, from what we understand, will feature High Dynamic Range (HDR) through Dolby Vision and a soundtrack in Dolby Atmos. Vudu is one seller that offers the Dolby combo on select Digital UHD titles.
On Blu-ray, 2-disc combo edition from Disney will come with a DVD and Digital HD copy. The disc will be formatted in 1080p video with a Dolby Atmos soundtrack. We haven't seen a standard 3D Blu-ray edition yet, although a 3D copy will come with Best Buy's exclusive 4k Blu-ray edition.
The 4k Blu-ray Disc combo, what looks like it will be called the "Cinematic Universe Edition," features 2160p video with HDR (High Dynamic Range) color enhancements (confirmed by Disney to be delivered via Dolby Vision). The English soundtrack on both Blu-ray editions feature Dolby Atmos and Dolby TrueHD 7.1 audio.
Extra bonus material which may vary by retailer includes deleted scenes, a "Making of" featurette, "Visionary Intro," a Guardians Inferno Music Video, gag reel, and audio commentary.
We'll get you more specific specs and pricing when we receive them.
Guardians of the Galaxy Vol. 2
Special Features (may vary):
The Making of "Guardians of the Galaxy Vol. 2" – A four-part, behind-the-scenes look at the making of the film, done in the style of classic-rock album liner notes.
Visionary Intro – Director James Gunn provides context on how he continues and expands the storylines of these beloved characters in "Guardians of the Galaxy Vol. 2."
Guardians Inferno Music Video – Join David Hasselhoff and special guests for a galactic retro dance party.
Gag Reel – Laugh out loud at all the hilarious off-script shenanigans and bloopers that took place on the set of "Guardians of the Galaxy Vol. 2," featuring all your favorite Guardians.
Four Deleted Scenes – Check out four specific scenes that had to be cut from the film, including two extended scenes and two deleted scenes.
Audio Commentary – Check out a special narration of the film by director James Gunn, who guides fans through an inside look at the making of the movie.