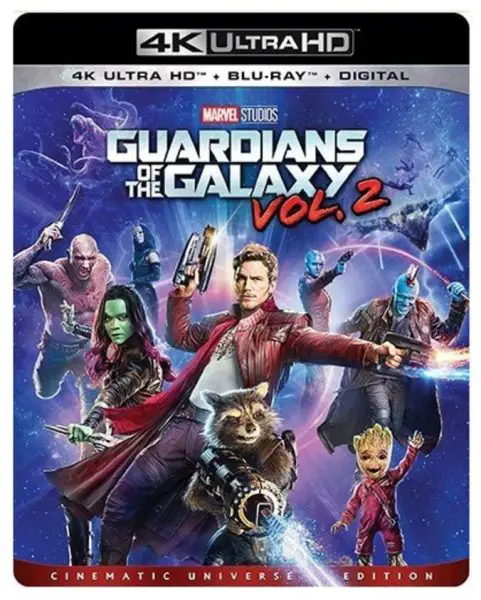 Things have been a little bit confusing in terms of what formats and editions will be available in the Blu-ray release of Guardians of the Galaxy: Vol. 2. We do know, however, that there will be a 2-disc Blu-ray combo edition with Blu-ray, DVD and Digital HD copy, as well as a 2-disc Ultra HD Blu-ray edition (titled the "Cinematic Universe Edition") with 4k Blu-ray, Blu-ray, and DVD.
Confirmation of those two editions can be found in a Buena Vista promotional graphic posted on Facebook. What's disappointing though, was that there is no indication of a Blu-ray 3D copy. Not that the film wasn't great in 2D, but the first GotG is one of the better 3D experiences to watch at home.
Here's where it gets confusing. Best Buy shows a 3D copy in their exclusive Ultra HD Blu-ray edition. Does this mean anyone who wants to watch Guardians of the Galaxy: Vol. 2 in 3D will have to purchase the more expensive ($34.99) Best Buy SteelBook? Maybe not. There could be a 3D edition that Disney/Buena Vista haven't announced yet.
The lack of 3D isn't the only thing that needs to be cleared up. What we've heard from Disney is that the title will come with dual Dolby Vision (HDR) and Dolby Atmos (audio) but only in the Digital UHD purchase [Update: See questions below.]. Vudu is one service that sells movies with both Dolby formats, but of course you'll need a compatible TV to view the movie (and best to use the Vudu Smart TV app for viewing those files without having to pass through a media player, Blu-ray player, and HDMI cable — some of which will probably require a firmware update which may or may not be available).
As of now Vudu is only showing the HDX version to pre-order and is missing video and audio specs.
As far as the 4k Blu-ray Disc (remember, standard Blu-ray doesn't support HDR), it appears the Dolby combo won't be available. Rather, the HDR content may be encoded in HDR10 but with Dolby Atmos audio (the standard Blu-rays just have DTS-HD Master Audio 7.1).
What would be great though, is if Disney would include an UltraViolet Digital UHD copy with the UHD BD edition that could be redeemed with Vudu. Now that would be worth $29.99!
Our Questions:
Will the 4k Blu-ray include HDR with Dolby Vision or HDR10? [Update: According to The Digital Bits the UHD BD will also feature both Dolby Vision and Dolby Atmos]
What about a non-exclusive Blu-ray 3D release?
Exactly what extras will be included in the Blu-ray release?
Will the digital copy with 4k Blu-ray redeem in UHD?
For audio, will the 1080p Blu-ray feature Dolby Atmos?
Hopefully we'll have all this cleared up soon so you can plan what edition you want to buy. If you're thinking about the retailer exclusives, especially with regard to the Best Buy SteelBook, it's smart to pre-order because they often have limited quantities in store.
You can check out all the current variations for yourself over at Marvel.com.
[amazon_link asins='B06ZXWR8C5,B073LF8C4K,B0718Z9G5W' template='ProductGrid' store='API-user-hdr' marketplace='US' link_id='60ae7e3f-7ee8-11e7-8f90-65a035d7cc1b']