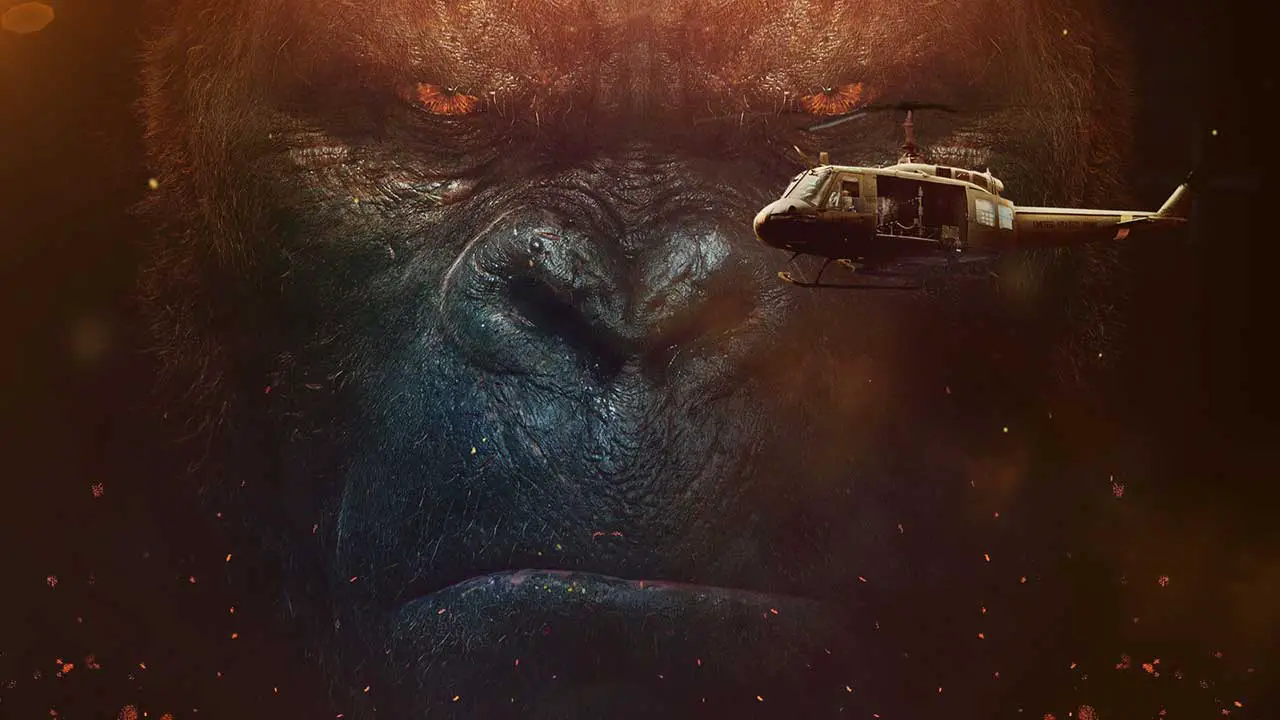 Warner Bros.' Kong: Skull Island has been released to digital formats four weeks earlier than Blu-ray, and is available on most popular video services in Digital SD and Digital HD. But for this title Google, Microsoft, and Vudu are offering the Digital UHD version with four times the resolution of HD.
Kong: Skull Island is priced at $14.99 (SD), $19.99 (HD) and $29.99 (UHD) for the 4k version. Yeah, $30 bucks. Unfortunately, Digital UHD is $10 more than HD (twice the price of SD) and it's been that way since the first titles started releasing to Vudu. (If you purchase Ultra HD Blu-ray Discs some titles will redeem Digital UHD copies.)
Vudu's Digital UHD features HDR with Dolby Vision and immersive audio with Dolby Atmos for TVs that support it (here's a list of supporting devices). Microsoft 4k video also supports HDR but via HDR10 (they began offering 4k HDR in May). However, Google Play doesn't support HDR at this time.
As far as extras,  iTunes offers almost an hour of bonus material including exclusive audio commentary by director Jordan Vogt-Roberts and cast members. Microsoft is offering the three-minute featurette titled "Kong: Truly Monstrous." Vudu doesn't appear to offer any with Kong: Skull Island like they usually do.
Bonus features available with some digital purchases include Creating a King: Realizing an Icon, Creating a King: Summoning a God, On Location: Vietnam, Tom Hiddleston: The Intrepid Traveler, Through the Lens: Brie Larson's Photography, Monarch Files 2.0 (Companion Archive), and deleted scenes.
Kong: Skull Island will release to disc formats on July 18, 2017. The film, directed by Jordan Vogt-Roberts, has made over $560M worldwide on an estimated $185M budget.
Where to Buy Kong: Skull Island Digital SD/HD/UHD
Amazon Instant Video – $14.99 (SD) $19.99 (HD)
Apple iTunes – $14.99 (SD) $19.99 (HD) + iTunes Extras
CinemaNow  – $15.99 (SD) $20.99 (HD)
FandangoNow (prev. M-Go) –$14.99 (SD) | $19.99 (HD) +Bonus
Google Play – $14.99 (SD) | $19.99 (HD) | $29.99 (UHD) 
Sony Entertainment Network – $14.99 (SD) + Bonus | $19.99 (HD)
Verizon FiOS On Demand – $20.99 (SD) | $20.99 (HD)
Vudu (Walmart) – $14.99 (SD) | $19.99 (HD) | $29.99 (UHD)
Microsoft Video – $14.99 (SD) | $19.99 (HD) | $29.99 (UHD)  +Bonus
*Prices at time of article publication
NA: Not available upon publication