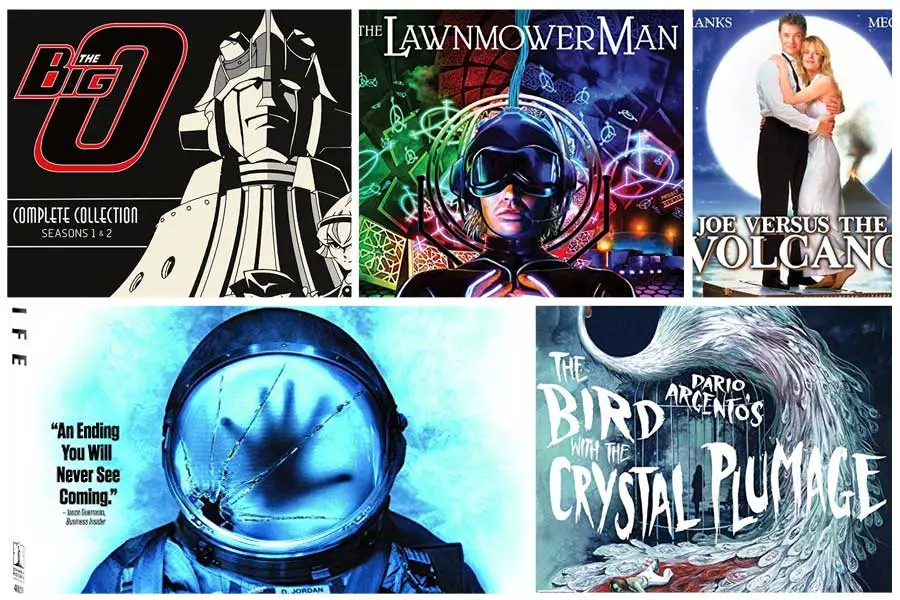 At our office in Scottsdale AZ it's going to 117 today: flights have been cancelled, phones aren't working that well, internet is slower than normal, and our brains are already scrambled. But that's not going to stop us from our usual Tuesday overview of new Blu-ray releases!
Sony Pictures' sci-fi thriller Life (not to be confused with the 2009 documentary Life) is is now available on Blu-ray and Ultra HD Blu-ray. The film, starring Jake Gyllenhaal, Rebecca Ferguson, and Ryan Reynolds takes place aboard the International Space Station where the crew finds an alien life form that threatens Earth. The 4k Blu-ray includes a Dolby Atmos soundtrack, but unfortunately the standard Blu-ray caps out with DTS-HD Master Audio 7.1. Extras include deleted scenes, three featurettes, astronaut diaries, and a digital copy.
Big O The Complete Collection of Seasons 1 and 2 is now available on Blu-ray in a 4-disc edition from Sentai Filmworks. The collection includes all 26 episodes of the hit Japanese anime series, along with four extra special features, Japanese promos and Sentai trailers. Video is presented in 1080p at 4×3 aspect ratio. The soundtrack is offered in English and Japanese DTS-HD Master Audio 2.0.
Other notable Blu-ray releases this week include Warner Archive's re-release of the hilarious film Joe Versus the Volcano starring Tom Hanks and Meg Ryan, a Collector's Edition of The Lawnmower Man (1992) — a must-see movie for students of virtual reality — with both theatrical cut and director cuts (edited with a new 4k scan), and a brand new 4k restoration of the 1970 film The Bird With The Crystal Plumage from director Dario Argento (packaged in one of the best Blu-ray covers we've seen).
New Blu-ray releases June 20, 2017
Ultra HD Blu-ray
Blu-ray
Life
Big O Complete Collection
The Bird With The Crystal Plumage (1970)
The Lawnmower Man (1992)
Sailor Moon S Part 2 (Season 3)
Norn9: Norn + Nonette
Himouto Umaru-Chan
The Marseille Trilogy – Criterion Collection
Island Of Terror (1966)
The Paul Naschy Collection
8 Million Ways to Die (1986)
Ten Little Indians (1974)
Railroad Tigers
Car Wash (1976)
Altitude
Wilson
Congo (1995)
Elian
Across the Bridge (1957)
Sour Grapes
The Duelist
Baker's Man
Midsummer Night's Dream