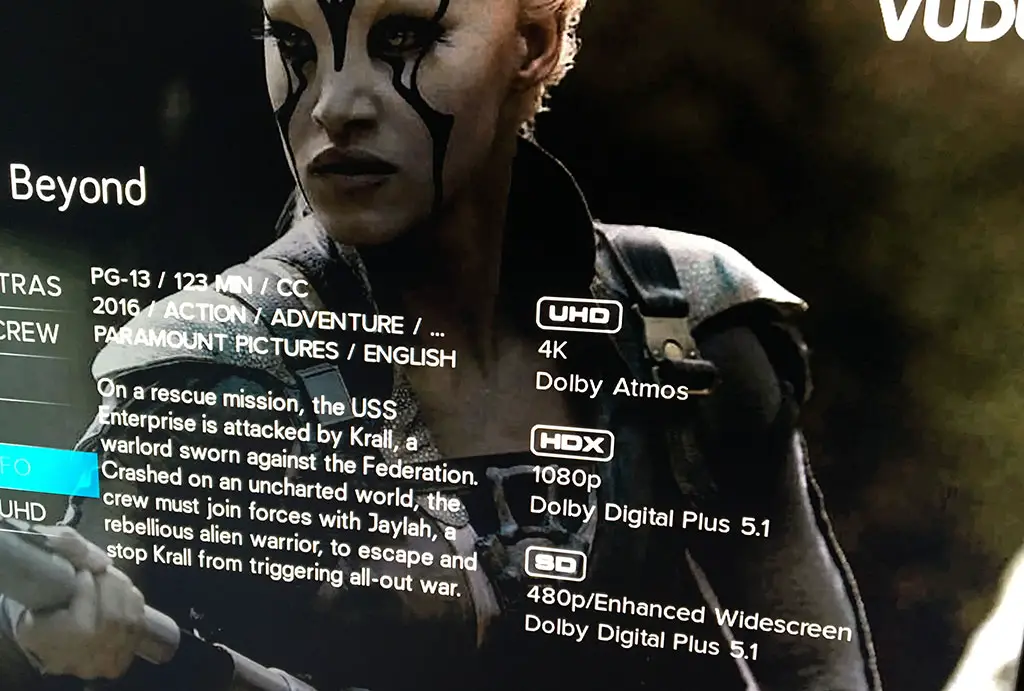 We've been waiting for the day when digital redemption codes with Ultra HD Blu-ray discs actually authenticate Digital 4k copies as well. Now, Vudu has quietly added UHD to some redeemed digital titles that will play in 4k as long as the system supports it.
As implied above, not all digital copies authenticated with codes from Ultra HD Blu-ray discs are converting to Digital UHD also, but hopefully this is just the start.
We can confirm that Star Trek Beyond, Jason Bourne, The Secret Life of Pets, Sing, and Jack Reacher: Never Go Back will all include the Digital UHD copy.
Titles that did not redeem UHD format with codes from Ultra HD Blu-ray Discs included Suicide Squad, Batman v Superman: Dawn of Justice, and X-Men: Apocalypse – at least for now. We're hoping the expensive Digital UHD format (titles usually cost between $24.99 and $29.99) will eventually be available for any title purchased in Ultra HD Blu-ray.
How do you get a Digital UHD copy authenticated? First of all, the titles need to be already available in Digital UHD from Vudu, and not many are, even though Vudu was one of the first digital movie services to offer 4k. In fact, only about half the number of titles on Ultra HD Blu-ray are also on Vudu in UHD.
To get started take a look at this list of Ultra HD Blu-ray discs to see if the title you want is in 4k. Then, check out this list of UHD titles on Vudu to see if the same title is available in 4k. Finally, redeem your code with Vudu and look to see if you own the UHD copy.
Digital UHD movies from Vudu feature 2160p video enhanced with Dolby Vision HDR (although the spec is not entirely supported). Audio is typically formatted in 7.1 channel Dolby Atmos, and backed by 5.1 Dolby Digital Plus.
UHD titles on Vudu can't be viewed on all devices. You need a compatible Vizio or LG TV, or supporting streaming media player such as Roku Ultra or Chromecast Ultra. See a list of devices here.