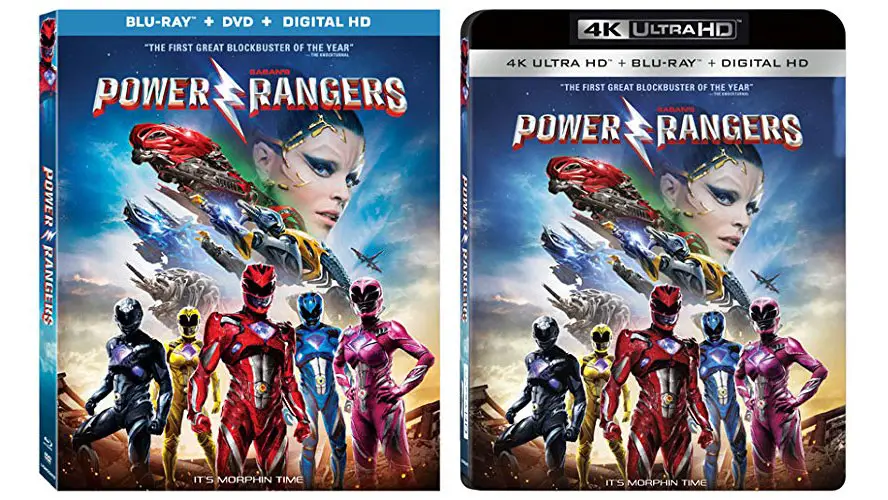 Lionsgate's Power Rangers earned $85M at the domestic box office ($50M international), and now the company has the chance to make back some of the estimated $100M budget with the home media release of the film.
Power Rangers is slated to release on Blu-ray Disc and Ultra HD Blu-ray Disc on Tuesday, June 27, 2017. The film will likely be available at least two weeks earlier in digital, but any extra bonus material with a digital purchase is uncertain at this point.
What we do know is the Power Rangers Blu-ray and 4k Blu-ray combo packs will contain plenty of special features such as audio commentary with director Dean Israelite and John Gatins, a documentary with several chapters, deleted and extended scenes, and outtakes.
The two-disc Blu-ray edition comes with a DVD copy, while the Ultra HD Blu-ray edition includes a standard Blu-ray copy. Both editions also contain redeemable codes for iTunes and/or UltraViolet digital copies.
We'll post final technical specs for Power Rangers: both audio and visual, when we get them. The 4k Blu-ray edition will likely include an HDR layer — probably Dolby Vision, for enhanced color range.
Power Ranger on Blu-ray Disc carries an MSRP of $39.99 ($22.99 pre-order), and the 4k Blu-ray edition is priced at $42.99.
Power Rangers Special Features:
Audio Commentary with Director Dean Israelite and Writer John Gatins
The Power of the Present Documentary:

Rangers Then to Now
Building the Team
Beyond the Rangers
Suiting Up
Rangers, Welcome to Training
Rangers in the Wild
It's Morphin Time
Power Ballad: Music and Sound
This is Your Destiny

Deleted/Alternate/Extended Scenes
Outtakes
Theatrical Trailer with Audio Commentary by Director Dean Israelite