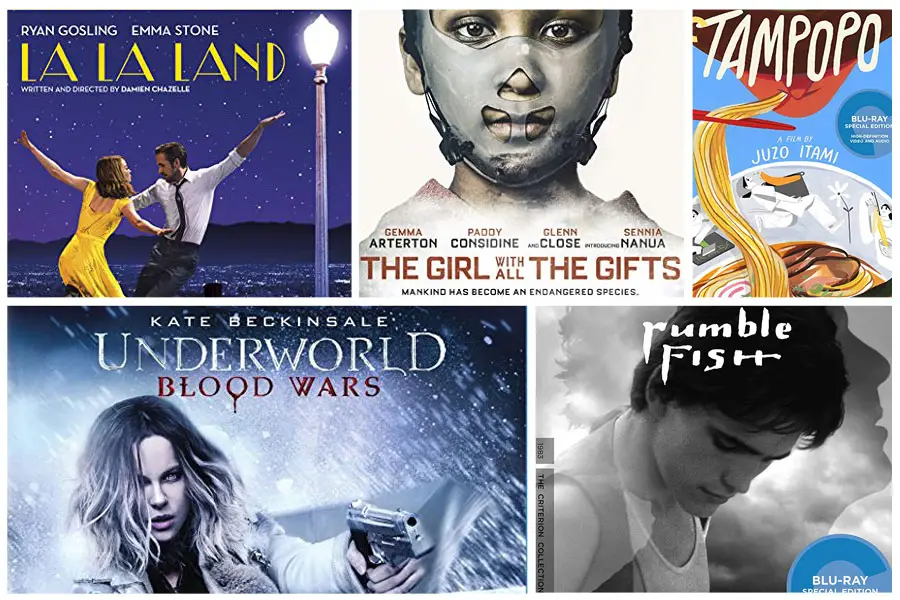 Here's a breakdown of new Blu-ray and 4k Ultra HD Blu-ray releases this week.
Damien Chazelle's 6-time Oscar winning film La La Land can now be purchased on Blu-ray Disc, 4k Blu-ray, DVD, and On Demand. Although previously released to Digital HD, La La Land on Blu-ray Disc packs plenty of extras including the featurette "They Closed Down A Freeway" and "John Legend's Acting Debut." There's also an epilogue titled "The Romance of the Dream" and audio commentaries with both writer/director Damien Chazelle and Composer Justin Hurwitz. The 2-disc Blu-ray combo editions also include a code to redeem a Digital HD copy with iTunes or UltraViolet. The Blu-rays feature an English Dolby Atmos soundtrack backed by Dolby TrueHD 7.1.
The successful Underworld franchise released yet another installment titled Underworld: Blood Wars to theaters in January, and now the film is available for home viewing on Blu-ray, 4k Blu-ray, DVD and On Demand (Underworld: Blood Wars was also released early to digital.) The 2-disc Blu-ray combo editions from Sony Pictures Home Entertainment include several featurettes such as "The Evolution of Selene" and "Building a Blood War," as well as a Digital copy from UltraViolet. The Ultra HD Blu-ray edition features an English Dolby Atmos soundtrack backed by Dolby TrueHD 7.1 (DTS-HD Master Audio 5.1 on the standard Blu-ray).
The Underworld Ultimate Collection (MSRP: $79.99) also hits stores today with all five films from the franchise starting with Underworld (2003) and ending with Underworld: Blood Wars (2017).
And, Criterion Collection has digitally remastered two classic films for Blu-ray release including Francis Ford Coppola's classic drama Rumble Fish (1983) and the Japanese comedy Tampopo (1985) from writer/director Jûzô Itami.
New on Blu-ray Disc April 25, 2017
Movies
Underworld: Blood Wars (2017)
The Underworld Ultimate Collection (2017)
La La Land (2016)
Exterminator 2 (1984)
The Girl With All The Gifts (2016)
Agatha Christie's The Witness for the Prosecution (2016)
We Are X (2016)
The Marine 5: Battleground (2017)
Pied Piper, The (1972)
Those Daring Young Men in their Jaunty Jalopies (1969)
Microcosmos (1996)
Dark Waters (1993)
Tampopo (1985) – Criterion Collection
Rumble Fish (1983) – Criterion Collection
Anatahan (1953)
Caltiki The Immortal Monster (1959)
The Screaming Skull (1958)
From Hell It Came (1957)
Django Prepare a Coffin (1968)
Man of La Mancha (1972)
Daredevils of the Red Circle (1939)
The Vampire Bat – Special Edition (1933)
Series
Dragon Ball Z Kai: The Final Chapters Part One
Utawarerumono: False Faces