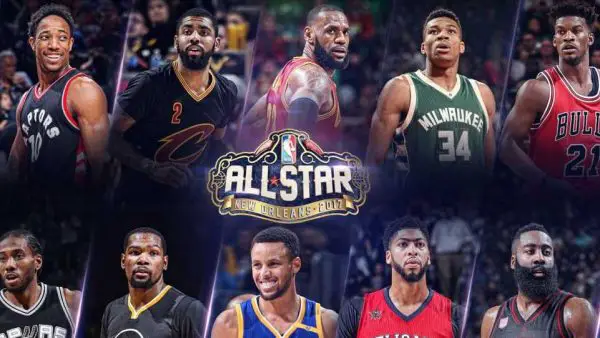 It's the 2017 NBA All-Star weekend and events are scheduled from Friday, Feb. 17 through Sunday, Feb. 19. The 66th All-Star game itself is on Sunday night, Feb. 19, at 8:30 p.m. ET from Smoothie King Center in New Orleans, LA.
TV broadcasts of the All-Star events and games are spread out between ESPN, NBA TV, and TNT (see schedule below for specific events/times).
In the NBA Eastern Conference, starters include LeBron James, Kyrie Irving, Giannis Antetokounmpo, Jimmy Butler, and DeMar DeRozan.
In the Western Conference, the top five players include Kevin Durant, Stephen Curry, Anthony Davis, James Harden, and Kawhi Leonard.
Making up the 14-man reserve team selected by coaches are incredible players such as two-time Kia NBA All-Star MVP Russell Westbrook, and first-time All-Stars Gordon Hayward, DeAndre Jordan, and Kemba Walker.
NBA All-Star Weekend 2017 Schedule from New Orleans, LA.
What: 66th NBA All-Star Game
When: Sunday,
Where:
TV: TNT coverage starts at 7 p.m. ET
Friday, Feb. 17
All times Eastern (ET)
10:30 a.m. | BBVA Compass Rising Stars Challenge Practice | NBA TV
12 p.m. | All-Star media availability | NBA TV
7 p.m. | NBA All-Star Celebrity Game | ESPN
9 p.m. | BBVA Compass Rising Stars Challenge | TNT
Saturday, Feb. 18
All times Eastern (ET)
11 a.m. | Hall of Fame Announcement
12 p.m. | NBA All-Star Practice | NBA TV
2:30 p.m. | NBA D-League All-Star Game presented by Kumho Tire | NBA TV
7 p.m. | Commissioner Adam Silver media availability | NBA TV
8 p.m. | State Farm All-Star Saturday Night | TNT
– Taco Bell Skills Challenge (first event)
– JBL Three-Point Contest (second event)
– Verizon Slam Dunk (third event)
Sunday, Feb. 19
All times Eastern (ET)
11 a.m. | NBA Legends Brunch | NBA TV coverage begins at 1 p.m. ET
8 p.m. | 66th NBA All-Star Game | TNT