When Warner Bros. releases Suicide Squad to Blu-ray Disc on December 13th, retailers including Amazon, Best Buy, and Target will also carry their own exclusive editions. If you're looking to get something different than the norm, or want a collectible Harley Quinn figurine, graphic novel, or other collectible item along with the discs, look beyond the standard disc editions to these retailer exclusives.
Target: 'Suicide Squad' Blu-ray Extended Cut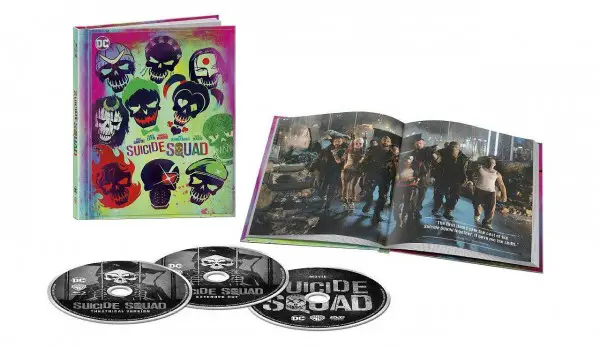 Target is selling an exclusive edition of Suicide Squad with Extended Cut, a 64-page collectible Digibook, and special lenticular packaging. The book expands on the DC Comics characters and feature film, with plenty of cinematic photography and custom cover art. The 3-disc edition includes the Extended Cut and theatrical Cut of Suicide Squad on Blu-ray and Digital HD, as well as the theatrical version on DVD. There are also several featurettes such as "Armed to The Teeth" and "The Squad Declassified" and gag reel. Price: $24.95
Best Buy: 'Suicide Squad' 4k Blu-ray Steelbook Edition
Your local Best Buy will have a couple exclusive editions of Suicide Squad available upon release date. The first is the film on 4k Ultra HD Blu-ray (2160p) with the exclusive Steelbook packaging that they commonly offer with popular movie titles. The 3-disc edition includes a 4k Blu-ray (with HDR/Dolby Atmos), Blu-ray, and Digital HD with two cuts of the film. Price: $34.99
Best Buy: 'Suicide Squad' Blu-ray Steelbook w/Graphic Novel
Best Buy will also have an exclusive Blu-ray (1080p) edition of Suicide Squad in Steelbook packaging with a printed graphic novel. The 3-disc combo will include a Blu-ray with theatrical cut, Blu-ray with extended cut, DVD of theatrical cut, and Digital HD copy. We're not sure yet if Best Buy will sell a less expensive Steelbook Blu-ray edition without the graphic novel, but we'll let you know if we hear anything. Price: $37.99
Amazon: 'Suicide Squad' Exclusive w/Harley Quinn Figurine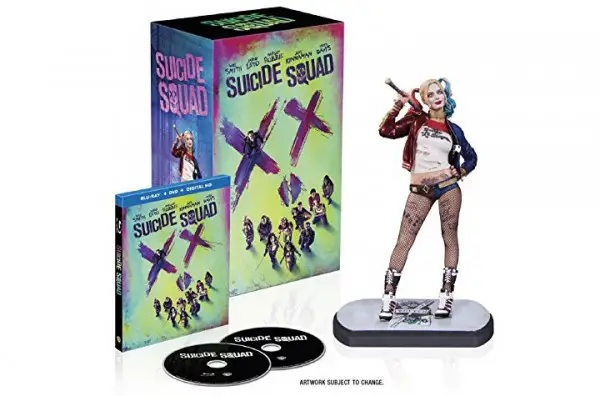 Amazon has got the priciest Suicide Squad Blu-ray exclusives of the bunch, but maybe with good reason. Their 2-disc edition with Blu-ray, DVD, and Digital HD copy also includes a collectible Harley Quinn figurine. The exclusive is list-priced at $129 and is also available with a Deadshot figurine (I wonder which figurine will sell out first?) Price: $116.99 (List: $129)
'Suicide Squad' Standard Blu-ray Editions
The standard editions of Suicide Squad include a 2-disc Blu-ray edition with DVD ($24.99), 2-disc Blu-ray 3D edition with Blu-ray ($29.99), and 4k Ultra HD Blu-ray edition with Blu-ray ($29.99). All Blu-ray combos also include a Digital HD copy through UltraViolet partners.
The Blu-ray Discs are formatted in 1080p at 2.4:1 widescreen aspect ratio, while the 4k edition improves video resolution to 2160p with High Dynamic Range color (for TVs that support HDR only). All of the Blu-ray editions also feature English audio in Dolby Atmos and Descriptive Audio 5.1.
Special features on the Blu-ray editions include several featurettes such as "Armed to The Teeth" and "The Squad Declassified" as well as a gag reel. (See list below.)
Suicide Squad Special Features
– Task Force X: One Team, One Mission
– Chasing The Real
– Joker & Harley: 'It' Couple of The Underworld
– Squad Strength and Speed
– Armed to The Teeth
– This is Gonna Get Loud: The Epic Battles of Suicide Squad
– The Squad Declassified
– Gag Reel