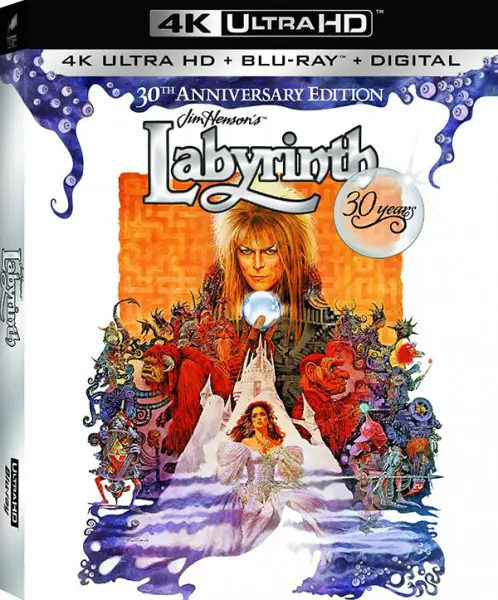 Jim Henson's classic fantasy adventure Labyrinth (1986) is now available to pre-order on Ultra HD Blu-ray. The film, celebrating 30 years since debuting in theaters, will hit stores in several formats and editions on September 20, 2016.
On Ultra HD Blu-ray, Labyrinth is formatted in 4k video resolution with High Dynamic Range (HDR) specifications for increased color depth and contrast. The audio component of Labyrinth is offered in Dolby Atmos, but is also compatible with Dolby TrueHD 7.1 for systems that don't support Atmos.
The film will also release to a single-disc Blu-ray and two-disc 30th Anniversary Edition Gift Set with special labyrinth packaging and Digibook. All editions of the 30th Anniversary of Labyrinth include a Digital HD copy.
Labyrinth stars David Bowie, Frank Oz, and Jennifer Connelly as 16-year old Sarah Williams who has 13 hours to solve a labyrinth and rescue her baby brother.
'Labyrinth' Blu-ray Bonus Features Include:
4K Restoration & Dolby Atmos soundtrack (Dolby TrueHD 7.1 compatible) *
ALL-NEW: "The Henson Legacy" Featurette
o    Jennifer Connelly and the Henson family talk about the art of puppetry and the magic of Jim Henson, along with a visit to the "Center for Puppetry Arts" featuring The Jim Henson Collection and over 100 puppets from Labyrinth.
ALL-NEW: Labyrinth Anniversary Q&A
o    Hosted by Mythbuster's Adam Savage with participants Brian Henson, David Goelz and Karen Prell, and surprise guest
Sheri Weiser.
ALL-NEW: "The Goblin King" Featurette
o  Remembering David Bowie with co-star Jennifer Connelly, and Jim Henson's children Brian Henson and Cheryl Henson.
The Storytellers (Picture-in-Picture)
Commentary by Conceptual Designer Brian Froud
Original Making of Documentary "Inside The Labyrinth"
"Journey Through the Labyrinth: Kingdom of Characters" Documentary
"Journey Through the Labyrinth: The Quest for Goblin City" Documentary
Theatrical Trailer