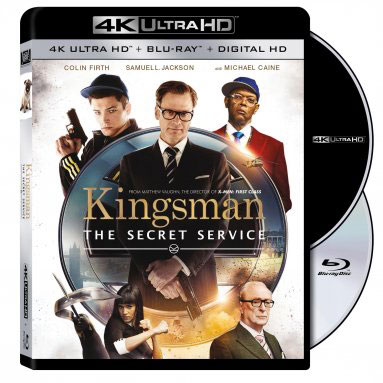 At the 2015 consumer electronics confab IFA in Berlin on Thursday, Sept. 3rd, Twentieth Century Fox Home Entertainment announced the first batch of movie titles to be released on Ultra HD Blu-ray, the up-and-coming 4k disc format specified by the Blu-ray Disc Association.
The initial Fox titles will include Kingsman: The Secret Service (show above), Exodus: Gods and Kings, Fantastic Four, X-Men: Days of Future Past, Life of Pi, The Maze Runner and Wild.
The titles will feature high dynamic range (HDR) processing, 4k resolution (up to 3840 x 2160) and frame rates as fast as 60 frames-per-second.
Panasonic showed off a prototype 4k Blu-ray player at CES 2015, while Samsung revealed their first Ultra HD Blu-ray player at yesterday's electronics confab IFA in Berlin.
"We are committed to releasing our slate of movies going forward in Ultra HD with high dynamic range, day and date, with the Digital HD and Blu-ray release," said Mike Dunn, president of Fox Home Entertainment.
Get more news on Ultra HD Blu-ray on our dedicated channel.
Source: Variety