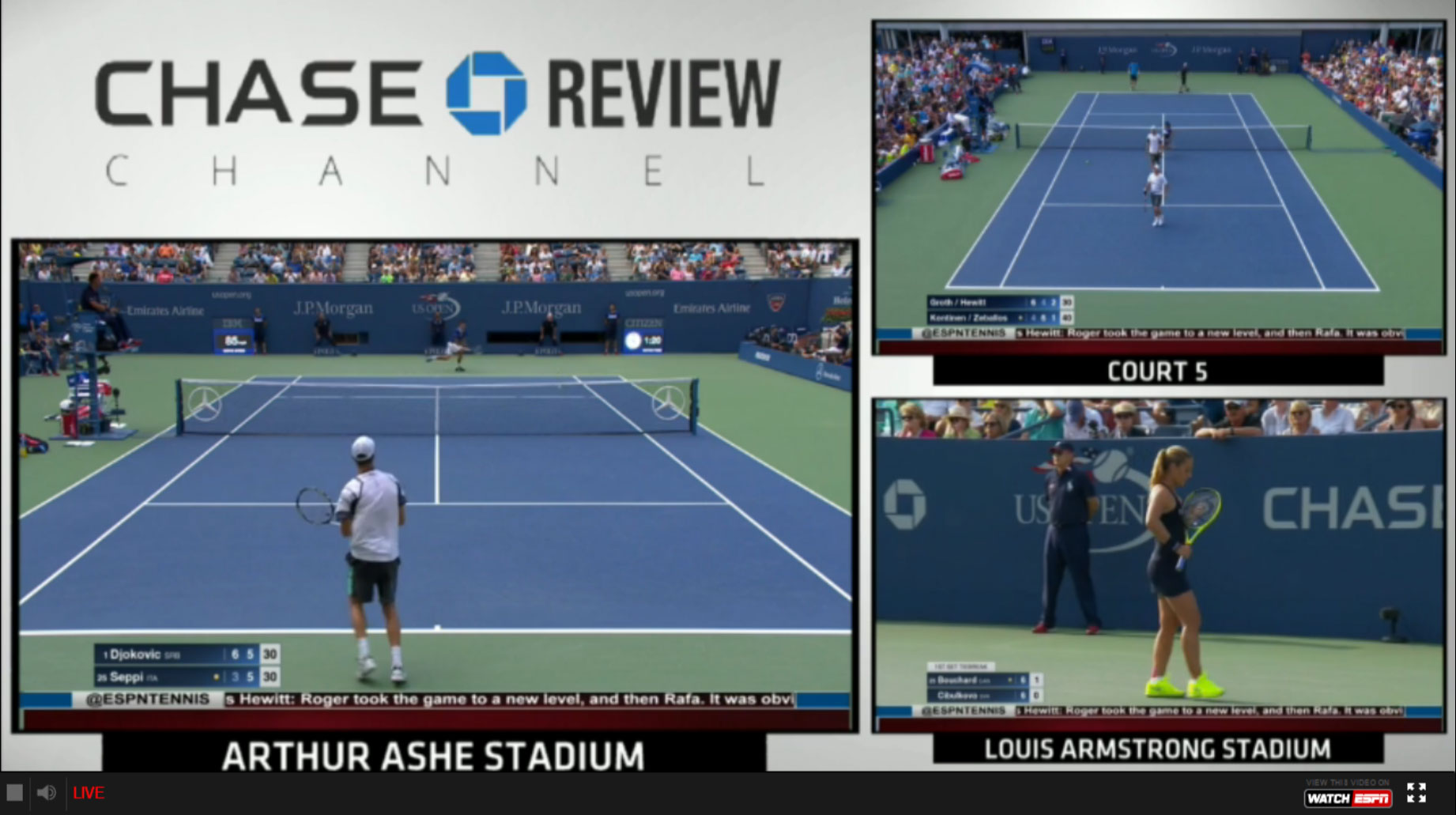 Away from home and want to live stream the US Open? The 2015 men's and women's tennis tournament is in the middle of the 3rd round of action, building up to the Final 16 matches that start on Sunday, September 6th.
ESPN is streaming the matches on ESPN, ESPN2, and ESPN3, where they have a Chase Review feed (three matches in one window) or individual match feeds.
To stream the 2015 US Open, you'll need to use the WatchESPN service for tablets, phones, PCs, and other supporting devices. Viewers can also go to the US Open website (usopen.org) where the ESPN feeds are embedded in the website.
WatchESPN on PCs and mobile devices can be authenticated by most television service providers including AT&T U-verse, Charter, Comcast Xfinity TV, Cox, DirecTV, Dish Network, Time Warner Cable, and Verizon FiOS TV among others.
Mobile Devices
To authenticate WatchESPN for your mobile device, download the free WatchESPN app for Android, iOS or Windows from Google Play, Apple iTunes, or the Microsoft app store, respectively. Once you open the app, you'll be prompted to provide the username and password used with your television service provider.
Consoles & Players
To watch WatchESPN on Xbox 360, Xbox One, Amazon Fire TV, Apple TV, or Roku, download the app from their respective stores and authenticate with the username and password setup with your television service provider.
PCs
To watch online, open a browser of your choice (Chrome, Safari, IE, or Firefox) and visit WatchESPN.com. Click on the WatchNow button and you'll be asked to provide the username and password associated with your TV service provider.
Here's a link to the US Open Tennis Tournament Schedule being held Aug. 31 through Sep. 13, 2015.