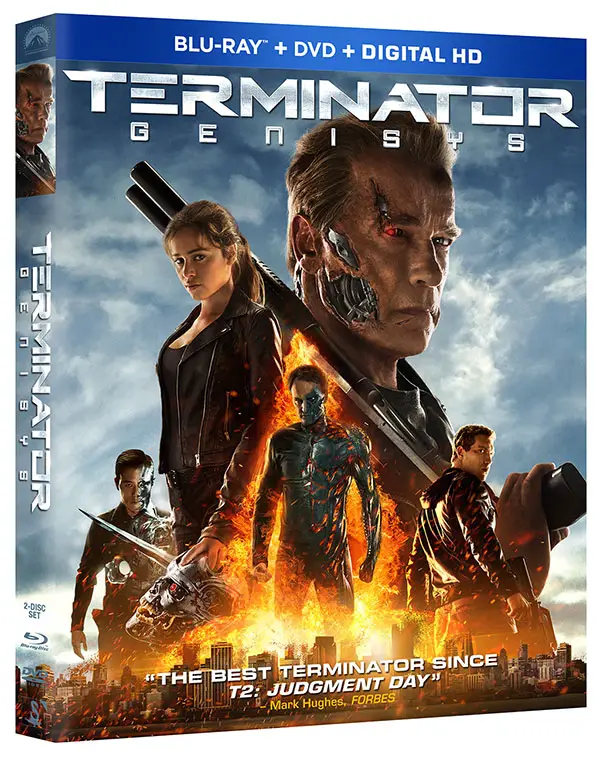 Paramount has officially announced the release dates for Terminator Genisys on Digital HD, Blu-ray Disc, and DVD. The film will first be available in Digital HD format on Tuesday, October 20th, followed by Blu-ray, DVD, and On Demand Tuesday, November 10th. On Blu-ray, will release to both a 2-disc Blu-ray Combo Pack and 3-disc Blu-ray 3D Combo Pack, both with DVD and Digital HD copies redeemable with iTunes or UltraViolet.
Extra bonus material includes the featurette "Family Dynamics" about the casting of Terminator Genisys, a behind-the-scenes look at filming locations in "Infiltration and Termination," and the visual effects exploration "Upgrades: VFX of Terminator Genisys."
Terminator Genisys on Blu-ray Disc is formatted in 1080p at 2.39:1 widescreen aspect ratio, with a Dolby Atmos soundtrack that's also compatible with Dolby TrueHD 7.1 if your sound system doesn't support Atmos. The DVD is formatted in 16:9 with 5.1 Dolby Digital.
Terminator Genisys Blu-ray bonus content:
Family Dynamics – Casting Terminator Genisys and how the actors filled some of the most iconic roles in cinematic history
Infiltration and Termination – Go behind-the-scenes to San Francisco and New Orleans in a first-hand look at filming locations
Upgrades: VFX of Terminator Genisys – Delve into the revolutionary visual effects behind the movie's incredible action sequences
"In the war of man against machine, Kyle Reese (Jai Courtney, The Divergent Series) is sent back to 1984 by resistance leader John Connor (Jason Clarke, Everest) to protect his young mother, Sarah Connor (Emilia Clarke, "Game of Thrones"). However, this time unexpected events have altered the past and threaten the future for all mankind. Now Reese must join forces with Sarah and her "Guardian" (Arnold Schwarzenegger) to save the world and stop the next evolution of Terminators."