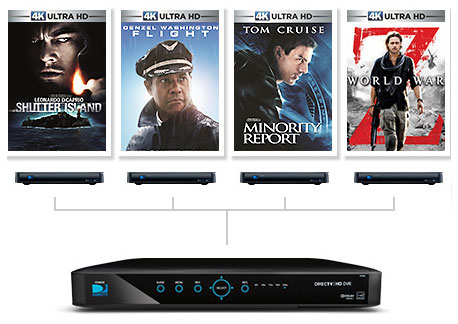 DirecTV has announced the 4K Genie Mini set-top box, allowing 4k customers to watch 4k Ultra HD content on most 4k TVs placed throughout the home. The new 4k Genie Mini brings full Genie features, with 4k support and Dolby Digital Plus audio decoding. The new 4K Genie Mini will allow even customers without a DIRECTV Ready 4K TV to watch 4k programming, as long as it supports HDMI 2.0 and HDCP 2.2.
The caveat? The 4k Genie Mini will only support one 4k program viewing in the home at a time (although the picture above seems to illustrate otherwise). Given the bandwidth demand of 4k video, which can be upwards of 20Mbps, the one-at-at-time viewing makes sense.
"Customers who want the best picture quality are creating more demand for 4K," said senior vice president Consumer Premise Engineering, DIRECTV, Henry Derovanessian.
4k content is still limited, however. And, DirecTV charges between $3.99 and $15.99 per movie. But at least there is no monthly fee for 4k access (although monthly Genie and Genie Mini fees apply).
DirecTV first launched 4K content in November, 2014 for select Samsung 4k TVs in combination with the Genie HD DVR (model HR34 or higher).
The satellite TV company is now part of the AT&T family, after being acquired in July.
Source: DIRECTV