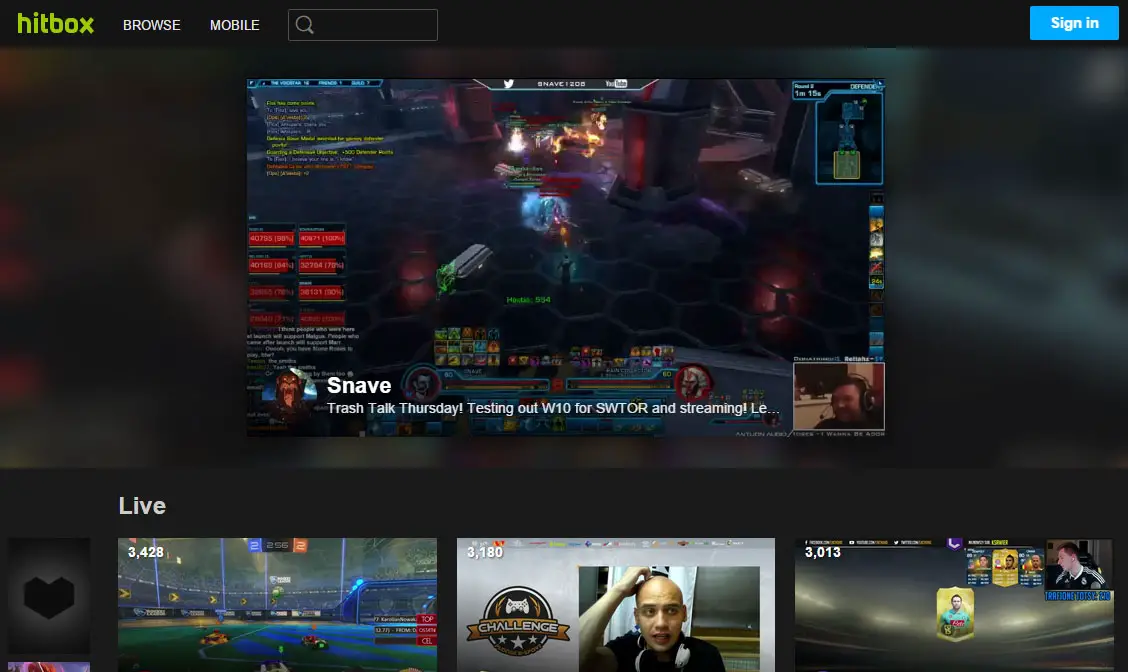 A couple weeks ago, video game streaming website Hitbox told GamesBeat they would start offering broadcasters the option of streaming 4k video at 60fps (frames-per-second) later this year. Today, Fortune posted an article about Hitbox's plan to bring 4k streaming to the $3.8 billion eSports industry.
Hitbox has far less viewers than video game streaming websites Twitch (with 100 million viewers) and YouTube gaming (with over 78 million viewers), but the platform's lower latency has made it popular among gamers – enough to grow to 6 million viewers. As such, the company professes to focus on a "delay free experience" between its broadcasters and viewers.
According to Hitbox CEO and co-founder Martin Klimscha, "high-paced games really come to life" when streamed in 4k and 60fps. If the company can stay ahead of its competitors in terms of streaming technology, (as they were in previous years by using HTML5 video and 1080p/60fps), they may tap into another viewer base that has the right equipment and bandwidth to stream 4k.
Streaming 4k video is mainly done through PCs and Smart TVs via compatible apps (like Netflix and YouTube), because gaming consoles and most popular streaming media players like Roku and Apple TV don't support 4k (with the exception of the Nvidia Shield Android TV).
YouTube supports 4k at 60fps but chat is not well integrated, causing many broadcasters to switch from the format.
What is 4k? 4k is the latest push in video resolution that offers four-times the current 1080p Full HD resolution. At roughly 4,000 pixels, 4k (as defined by cinematic technology) is actually slightly higher than the Ultra HD (UHD) standard defined by the Consumer Electronics Association.
Ultra HD TVs (referred to as 4k or UHD), display a resolution of 3,840×2160 pixels producing 8 megapixels of detail.
Get more 4k news at HD Report.
Sources: VentureBeat, Fortune