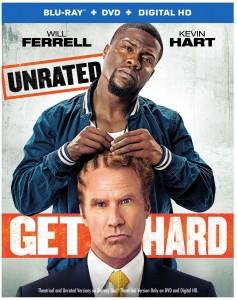 This week Warner Bros.' Get Hard starring Will Ferrell and Kevin Hart is available on Blu-ray Disc in a combo edition with DVD and Digital HD copy. Although the film was previously released to Digital HD, the Blu-ray release includes extras such as deleted scenes, gag reel, "The Kevin Hart Workout," and more. The Digital HD copy is redeemable with UltraViolet (no iTunes).
The Decline Of Western Civilization Collection on Blu-ray comes from a 2k scan of the original three films from director Penelope Spheeris (Wayne's World) . The documentaries cover influential musicians and groups such as Black Flag, X, Circle Jerks, Alice Cooper and Ozzy Osbourne. Extras on the new high-def release include commentaries by Dave Grohl, Never-Before-Seen Original Footage, Performances and Interviews, 40-page photo booklet, and more.
The 2015 film Last Knights didn't get a huge theatrical release in the US, but that doesn't mean it's not worth checking out on Blu-ray Disc. Clive Owen and Morgan Freeman star in this action film about a fallen warrior who rises against a corrupt ruler to avenge his dishonored master. The Blu-ray includes a Digital HD copy via UltraViolet, as well as bonus material such as behind-the-scenes, special effects featurettes, cast and crew interviews, and more.
Here's an extended list of new Blu-ray Disc releases June 30, 2015.
Get Hard
The Decline Of Western Civilization Collection
Last Knights
Kumiko, The Treasure Hunter
Valerie and Her Week of Wonders (1970) – Criterion Collection
The Gunman
While Were Young
Danny Collins
Live At Shea Stadium 1982 – The Who
Kern & Hammerstein: Show Boat
Escape From the Bronx1983
The New Barbarians1983
1990: The Bronx Warriors1982
Hard to Be a God
A John Williams Celebration
Five Easy Pieces (1970) – Criterion Collection
Magical Warfare: Complete Collection
I Am Evel Knievel
The Dovekeepers
No Good Deed
Space Brothers Collection 3
World Orchestra for Peace – BBC Proms