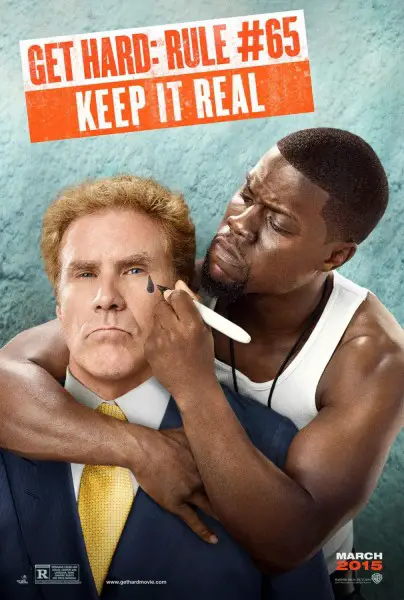 The comedy film Get Hard starring Will Ferrell and Kevin Hart has been released early to Digital HD — both the theatrical and 'Unrated' cut — about two weeks ahead of the Blu-ray Disc, DVD, and On Demand options on June 30th. If you've cast away your old disc buying habits and sticking with only digital purchases, you'll find plenty of popular titles are available in advance of physical media. But with so many digital options out there, where is the best place to buy digital movies?
Anyone who's money conscious will most likely look at price first, because Digital HD can be expensive. But new releases are usually no more than Blu-ray Disc combo editions that include digital copies redeemable with UltraViolet or iTunes. (Not all new Blu-rays include digital copies, however, take for instance Disney's release of Spirited Away this week that does not a digital copy).
The other thing to consider, beyond the price, is where all your digital movies and TV shows will live. In a perfect world, every digital purchase you make will exist in one central database. But it doesn't work that way. Apple doesn't share with Amazon; Google Play doesn't share with Sony Entertainment Network; and so on. As a result, your digital collection of titles could exist across a dozen platforms, making it less practical to find a specific movie to watch.
A simple answer is to stick with one service no matter the slight price differences. You may find dedicated Apple users that have only made digital purchases with iTunes. Or, those who buy everything on Amazon. However, those who have purchased Blu-ray combo editions will most likely have come across UltraViolet. The platform, essentially a shared database, is supported by several digital movie services including Vudu, CinemaNow, Paramount, and Verizon FiOS On Demand.
This week's digital price comparison, Get Hard, is $14.99 for SD and $19.99 for HD on most platforms. Here's a comparison of where to buy.
Get Hard Digital SD/HD Price Comparison*
Amazon Instant Video – $14.99 (SD) $19.99 (HD)
Apple iTunes – $14.99 (SD) $19.99 (HD) – includes iTunes Extras
Cinema Now  – $15.99 (SD) $20.99 (HD) – includes bonus
Flixster  – NA
Google Play – $14.99 (SD) $19.99 (HD)
Sony Entertainment Network – $14.99 (SD) $19.99 (HD)
Verizon FiOS On Demand –  $16.49 (SD) $19.99 (HD)
Vudu (Walmart) – $14.99 (SD) $19.99 (HD/HDX) – includes extras
Xbox Video –  $14.99 (SD) $19.99 (HD)
Xfinity On Demand –  $18.99 (SD) $21.99 (HD)
View more price comparisons on other popular digital movie releases.
*Prices at time of article publication.