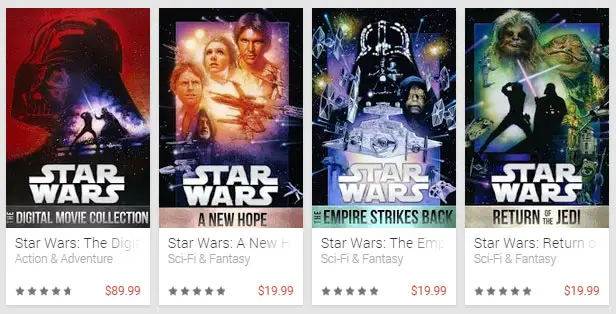 Star Wars: The Digital Movie Collection has just been announced for release on Friday, April 10th, as well as all six titles to purchase individually in Digital SD/HD. Pre-ordering the films individually probably doesn't make sense, as the standard price for either SD or HD quality is $19.99 per title. But pre-ordering Star Wars: The Digital Movie Collection (currently priced at $89.99), makes plenty of sense if you plan on purchasing all six films individually which would cost about $120. (SW purists may argue, however, that you can get the original three films for $60, Jar Jar Binks-free.)
The bundled Star Wars Digital Movie Collection includes Episode IV: A New Hope, Episode V: The Empire Strikes Back, Episode VI: Return of the Jedi, Episode I: The Phantom Menace
Episode II: Attack of the Clones, Episode III: Revenge of the Sith, and Episode VII: The Force Awakens. The digital collection also includes new bonus material (see details here), as well as a selection of previously released bonus content.
The bundled Digital Movie Collection is available to pre-order for $89.99 through the vendors listed below. To compare, Star Wars: The Complete Saga on Blu-ray Disc retails for $139 but can be found discounted for about $89.
Star Wars: The Digital Movie Collection Digital HD Prices*
Amazon Instant Video – $89.99 (HD)
Apple iTunes – $19.99 per title, Bundle NA
Cinema Now (Best Buy) – NA
Flixster – NA
Google Play – $89.99 (HD)
M-Go – $89.99 (HD)
Sony Entertainment Network – NA
Verizon FiOS On Demand –  NA
Vudu (Walmart) – $89.99 (HD/HDX)
Xbox Video –  $89.99 (HD)
Xfinity On Demand – NA
*Prices upon article publication.
NA (Not Available upon publication)