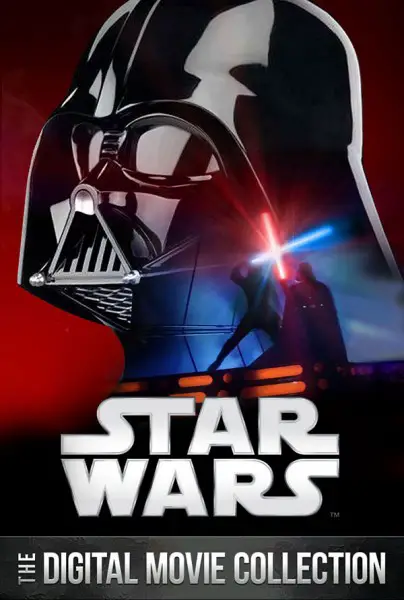 Walt Disney Studios, Lucasfilm, and 20th Century Fox have announced the entire Star Wars saga will be released to Digital HD for the first time on Friday, April 10. Along with all six films, the Digital HD purchase will include new and never-before-released conversations between legendary Star Wars artists in the extras Star Wars: Discoveries from Inside and Conversations. There will also be a curated collection of classic Star Wars extras from each film with the digital purchase.
"These films broke new ground in technology, design, sound, and visual effects, and we've created some very special bonus material which delves into the Saga's rich history," said Lucasfilm President Kathleen Kennedy.
Star Wars: Episodes I-VI will be available to purchase as a complete digital movie collection, or as individual films. Upon release, Vudu is taking pre-orders on the entire collection for $89.99, while M-Go is selling pre-orders at $99.77.
Star Wars: Episodes I-VI Digital HD Bonus Material
BONUS
*Digital bonus offerings may vary by retailer
STAR WARS EPISODE I: The Phantom Menace
Conversations: Doug Chiang Looks Back
Discoveries From Inside: Models & Miniatures
Legacy content includes "The Beginning"; The Podrace: Theatrical Edit; plus eight deleted scenes.
STAR WARS EPISODE II: Attack of the Clones
Conversations: Sounds In Space
Discoveries From Inside: Costumes Revealed
Legacy content includes "From Puppets To Pixels: Digital Characters In Episode II"; State Of The Art: The Previsualization Of Episode II; and "Films Are Not Released, They Escape"; plus Episode II Visual Effects Breakdown Montage and six deleted scenes.
STAR WARS EPISODE III: Revenge of the Sith
Conversations: The Star WarsThat Almost Was
Discoveries From Inside: Hologram & Bloopers
Legacy content includes documentaries "Within A Minute: The Making Of Episode III"; The Journey Part 1; and The Journey Part 2; plus six deleted scenes.
STAR WARS EPISODE IV: A New Hope (20th Century Fox)
Conversations: Creating A Universe
Discoveries From Inside: Weapons & The First Lightsaber
Legacy content includes "Anatomy Of A Dewback"; Star Wars Launch Trailer; plus eight deleted scenes.
STAR WARS EPISODE V: The Empire Strikes Back
Conversations: The Lost Interviews
Discoveries From Inside: Matte Paintings Unveiled
Legacy content includes "A Conversation With The Masters" (2010); "Dennis Muren: How Walkers Walk"; "George Lucas On Editing The Empire Strikes Back 1979"; and "George Lucas On The Force: 2010"; plus six deleted scenes.
STAR WARS EPISODE VI: Return of the Jedi
Conversations: The Effects
Discoveries From Inside: The Sounds Of Ben Burtt
Legacy content includes "Classic Creatures: Return Of The Jedi"; "Revenge Of The Jedi Teaser Trailer"; Return Of The Jedi Launch Trailer; "It Began TV Spot"; "Climactic Chapter TV Spot"; plus five deleted scenes.