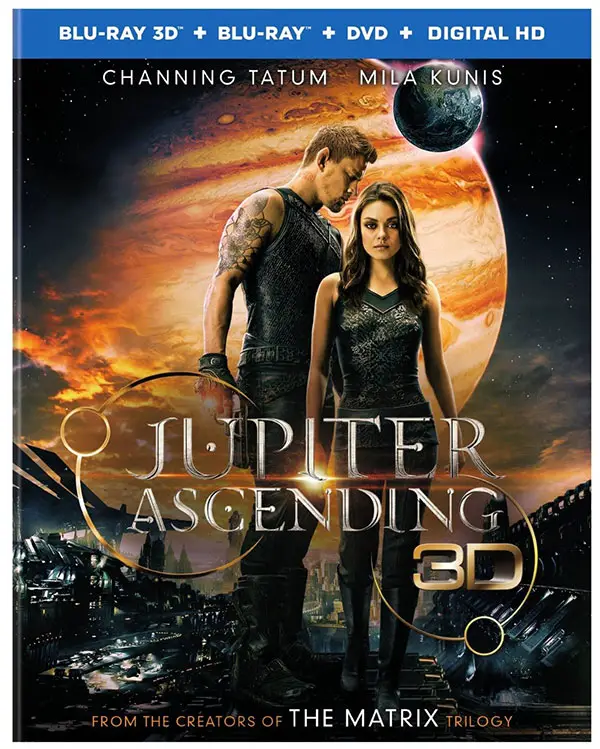 Warner Bros. has provided the home release date and package art for Jupiter Ascending starring Mila Kunis and Channing Tatum. The film will hit stores on Blu-ray 3D, Blu-ray, and DVD on June 10, 2015. The 3-disc combo will come with a version of the film on Blu-ray 3D, as well as Blu-ray, DVD, and Digital HD copy via UltraViolet. The 2-Disc Blu-ray combo also includes multiple formats, minus the 3D disc.
Jupiter Ascending on Blu-ray will also contain seven bonus features (listed below), that explore the making of the film and concepts explored within.
Warner Bros. hasn't revealed a date for the Digital HD release of Jupiter Ascending, but one might expect an early digital release pre-dating the discs by at least two weeks.
The film, written and directed by Andy and Lana Wachowski, is about a young woman named Jupiter Jones (played by Kunis) whose fate is to protect the inhabitants of Earth.
Jupiter Ascending Bonus Features:

– Jupiter Jones: Destiny Is Within Us
– Caine Wise: Interplanetary Warrior
– The Wachowskis: Minds Over Matter
– Worlds Within Worlds Within Worlds
– Jupiter Ascending: Genetically Spliced
– Bullet Time Evolved
– From Earth to Jupiter