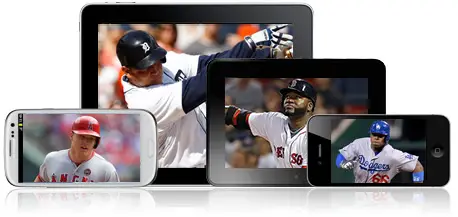 MLB Extra Innings will be offering a free preview with many TV service providers for Major League Baseball's Opening Day, 2015. The preview starts Monday, April 6 and ends on Sunday, April 12. DirecTV, Time Warner Cable, and Verizon FiOS TV are among the participating providers, as well Dish Network who just added the service.
New features with MLB.tv Premium in 2015 include the ability to watch games on Playstation Vita and Playstation TV. The platform also uses a new Web-based HD media player (available to both MLB.tv and MLB.tv Premium members). And, now there's a way to overlay home or away radio broadcasts, and include the park's natural sounds. There's also the option to overlay Spanish audio (if available).
The MLB Extra Innings is an add-on to your television service package that adds up to 100 games per week on your TV, as well as MLB.tv on your PC and mobile devices. Last year, MLB.tv added live streaming of out-of-market games so displaced fans can watch their favorite teams live.
The premium MLB service is available with most cable and satellite TV service providers as listed below. Check with your provider for to see if you can get the free preview this year.
DirecTV
Bright House Networks
Cablevision (iO)
Charter Communications
Comcast
Cox Communications
Midcontinent Communications
RCN
Suddenlink Communications
Time Warner Cable
Verizon FiOS