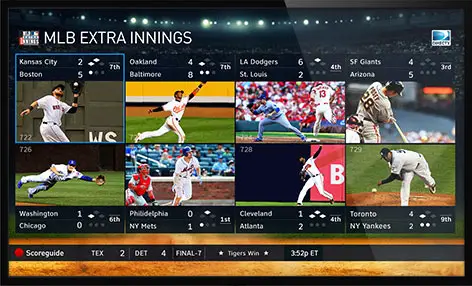 Dish Network has announced a new deal with Major League Baseball that gives subscribers access to MLB Extra Innings, a premium service that provides up to 100 out-of-market games a week, most of them in HD. In addition, the agreement includes access to MLB.TV, with access to every out-of-market game live or on-demand through multiple devices.
Dish stated the new agreement also "sets the stage for in-market streaming of MLB games in the future." But in-market live streams would require agreements with local broadcasters — a complicated endeavor to say the least.
The multi-year agreement also continues the distribution agreements for MLB Network and MLB Network Strike Zone, as well as digital distribution through the DISH Anywhere app and on DISHAnywhere.com.
"MLB Extra Innings is a must-have for displaced fans, and we're excited to offer it in time for the season to begin," said Warren Schlichting, DISH senior vice president of programming.
There will be a free preview of MLB Extra Innings for Opening Day, extending from April 6th through April 12th, 2015.