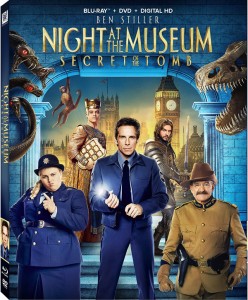 If you're a fan of 'The Hunger Games' films you may have already picked up The Hunger Games: Mockingjay – Part 1 released to Blu-ray Disc and DVD last Friday, March 6th. The film is available in a two-disc Blu-ray edition, one-disc DVD edition, and On Demand. Both the Blu-ray and DVD editions contain a digital copy, although you'll only get the Digital HD format with the Blu-ray Disc.
The latest 'Night at the Museum' franchise film is now available on Blu-ray Disc, DVD, and to rent On Demand. Night at the Museum: Secret of the Tomb, starring Ben Stiller and Robin Williams, can be purchased in a two-disc Blu-ray edition or one-disc DVD edition, both with a code to redeem a Digital HD copy.
And, 20th Century Fox has released the Sound of Music 50th Anniversary Ultimate Collector's Edition celebrating 50 years since the film's theatrical release in 1965. On Blu-ray Disc, there's both a two-disc and five-disc edition to choose from, each with new restored film mastered in 1080p with 7.1 DTS-HD Sound. The five-disc edition contains three BDs loaded with extras such as commentaries, interviews, and an hour-long documentary, as well as a standard-definition presentation of the film on DVD and a separate soundtrack disc.
Here's what's new on Blu-ray Disc, DVD and Digital HD this week:
The Hunger Games: Mockingjay – Part 1 (Blu-ray, DVD, Digital HD)
Night at the Museum: Secret of the Tomb (Blu-ray, DVD, Digital HD)
Sound of Music 50th Anniversary Ultimate Collector's Edition (Blu-ray, DVD, Digital HD)
Legend of Korra: Book Four: Balance
The Breakfast Club – 30th Anniversary Edition (Blu-ray, DVD, Digital HD)
Fairy Tail: Part 15 (Blu-ray, DVD)
Blade Trilogy
John Hughes Yearbook Collection (1984) (Blu-ray, Digital HD)
The Flintstones & WWE: Stone Age Smackdown (Blu-ray, DVD, Digital HD)
World God Only Knows Goddesses
Don't Go In The Woods (1981)
Late Phases: Night of the Lone Wolf
White Haired Witch
Familiar of Zero: Knight of the Twin Moons