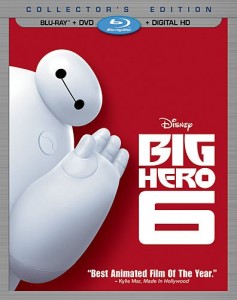 Want to know what's new on Blu-ray Disc, Digital HD, and DVD this week?
Let's start with Big Hero 6 from Walt Disney Animation Studios. The animated film (previously released to Digital HD format) is now available on Blu-ray Disc, DVD, and On Demand. The Collector's Edition combo from Disney might be the best deal in town, with a Blu-ray, DVD, and Digital HD copy via iTunes. The combo also includes deleted scenes and featurettes including "Big Hero Secrets," "The Origin Story of Big Hero 6," and "Big Animator 6: The Characters Behind the Characters."
Three-time Oscar-winning film Whiplash is now available from Sony Pictures Classics in a single-disc Blu-ray edition with Digital HD copy, single-disc DVD, or Digital purchase in SD or HD resolution. The film was written and directed by Damien Chazelle and stars Miles Teller with J.K. Simmons who won "Best Performance by an Actor in a Supporting Role" in last night's Oscars.
And, Sons of Anarchy The Final Season (Season 7) has released to Blu-ray Disc and DVD. The four-disc Blu-ray edition from 20th Century Fox contains plenty of extras including deleted scenes. gag reel, and several featurettes including "Bikes of Sons of Anarchy: Motorcycles of Mayhem," "Anarchy Legacy," and "SOA Tattoo Stories" among the five listed. The DVD edition is spreads out all thirteen episodes of the season onto five discs.
Fox has also released the Sons of Anarchy Complete Series Giftset with special packaging, booklet, and over 13 hours of extras.
Those are our top picks for the week. See the extended list below for more new titles.
New Blu-ray, Digital & DVD releases Feb. 24, 2015
Big Hero 6 (Blu-ray, DVD, Digital HD w/iTunes)
Whiplash (Blu-ray, DVD, Digital HD w/UltraViolet)
Sons of Anarchy: Season 7 (Blu-ray, DVD)
Sons of Anarchy The Complete Series Giftset (Blu-ray, DVD)
Horrible Bosses 2 (Blu-ray, DVD, Digital HD w/UltraViolet)
Watership Down [1978] (Blu-ray, DVD)
2015 CFP National Championship Game (Blu-ray, DVD)
2015 Allstate Sugar Bowl (Blu-ray, DVD)
Dragonheart 3: The Sorcerer's Curse (Blu-ray, DVD, Digital HD w/iTunes & UltraViolet)
Love Chunibyo & Other Delusions Collector's (Blu-ray)
Beyond the Lights (Blu-ray, DVD, Digital HD)
Fellini Satyricon – Criterion Collection [1969] (Blu-ray)
Midsomer Murders, Set 25 (Blu-ray, DVD)
52 Pick-Up [1986] (Blu-ray, DVD)
American Gigolo – Italian Edition (Blu-ray)
God Told Me to [1976] (Blu-ray)
New Year's Evil [1980] (Blu-ray)
The Majestic (Blu-ray, DVD)
Live at Koko – Uriah Heep (Blu-ray)
Wild Orchid (Blu-ray, DVD)
Black Sunday (AIP Version) (Blu-ray)