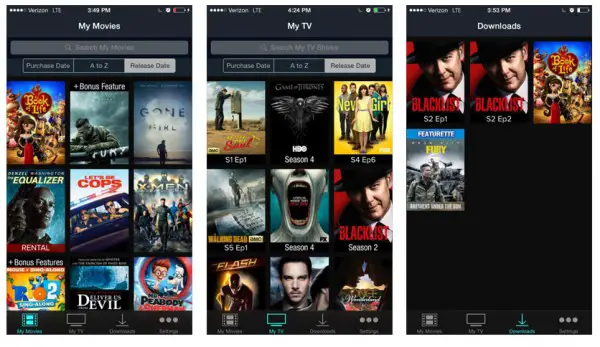 The iOS Vudu app for iPhone, iPod touch, and iPad devices has been updated with a fresh design, as well as some bug fixes, new features, and overall improvements. The new layout of TV shows (pictured above) on the app is an improvement from the old, with less taps to get to the episodes you want to see. There's also a new progress bar so you can tell where you last left an episode.
Search has been improved to allow you to search through your purchased titles (under My Movies or My TV), which is a great feature for those of us with growing digital movie and TV show collections. The My Movies and My TV Shows libraries can be viewed alphabetically by A-Z, Purchase Date, or Release Date. Purchase is a helpful tab for find the most recent purchased or redeemed titles.
The Vudu Player itself has also been completely rebuilt and features a faster and more responsive user interface. The player lets users stream titles while connected to the internet or download for viewing later.
Vudu Community and Rotten Tomatoes ratings have supposedly been integrated into the app, but we've yet to see the social feature in action.
The app from Vudu supports UltraViolet and Disney Movies Anywhere playback, as well as Chromecast streaming.