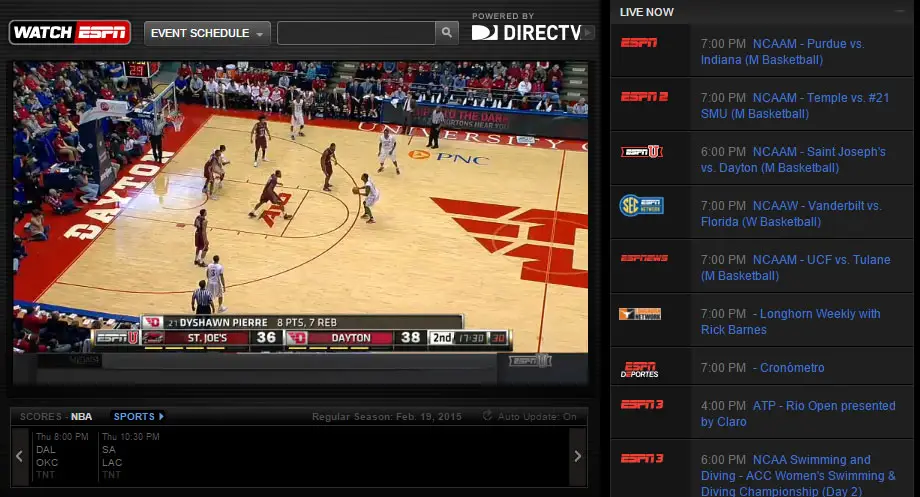 One of the apps I've been waiting to use as a DirecTV subscriber is WatchESPN. But the Disney-owned service, along with WatchABC, require authentication from a service provider. Comcast, Time Warner Cable, Verizon, and a whole list of providers have been supporting authentication for a while now. But DirecTV was not one of them. Now it appears DirecTV subscribers can view the live streaming service through a web browser or on any device that supports the apps. (Check out the "Powered by DIRECTV" graphic in the screenshot above.)
The DirecTV support of the Disney WATCH services comes after a multiyear deal between the two companies was announced earlier this year. Other services that were part of the deal include WATCH Disney Channel, WATCH Disney XD, WATCH Disney Junior, and WATCH ABC Family.
If you're a DirecTV subscriber you can visit WatchESPN.com or WatchABC.com on your PC, where the website will ask for authentication before streaming any video (you may need to allow pop-ups from the site). We also have confirmation the DirecTV authentication works on Apple TV and iOS apps for iPad and iPhone, as well as the Roku player.
The quality of streaming video, of course, will depend on available bandwidth and computer processor resources. The app for Android devices (last updated January 13) requires Android 4.0 or higher. The app for iOS devices (last updated November 3, 2014), requires iOS 7.0 or above.
Thanks Stuart S. for the tip!