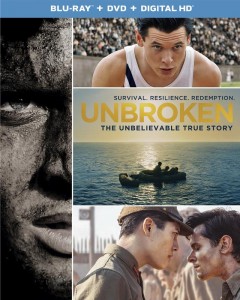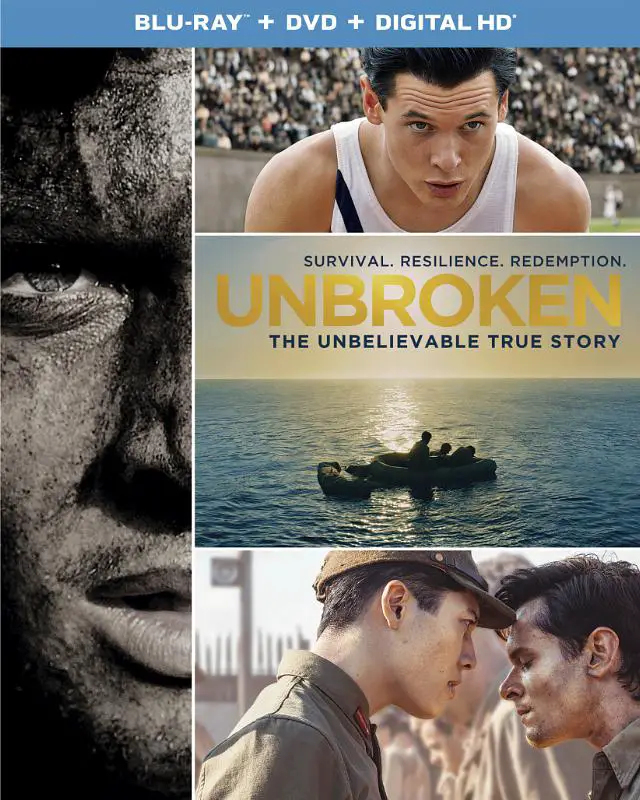 Universal Pictures has announced the Digital, Blu-ray Disc and DVD release dates for Unbroken. The film will first release to Digital HD format on March 10th, followed by the Blu-ray, DVD and On Demand options March 24th, 2015.
The 2-disc combo will contain Blu-ray, DVD, and Digital HD copies of the film via iTunes or UltraViolet. For those who enjoy extras beyond the feature film, the Blu-ray edition contains exclusive content including deleted scenes, behind-the-scenes interviews, performances by cast and crew, and the featurette "Louis' Path to Forgiveness" that gives viewers a closer look at the life of Louie Zamperini.
On both the Blu-ray Disc and DVD editions, "The Real Louis Zamperini" compiles behind-the-scenes interviews with the late Louis Zamperini, cast and crew.
The Blu-ray Disc from Universal is formatted in 1080p at 2.40:1 widescreen aspect ratio. Audio is provided in English Dolby Atmos (7.1 Dolby TrueHD compatible), as well as Dolby Digital 2.0, and Dolby Digital 5.1 (Spanish and French.)
Directed by Angelina Jolie, Unbroken stars Jack O'Connell as the Olympian and World War II hero Louie Zamperini. The movie is based on the New York Times bestselling book Unbroken by Laura Hillenbrand.