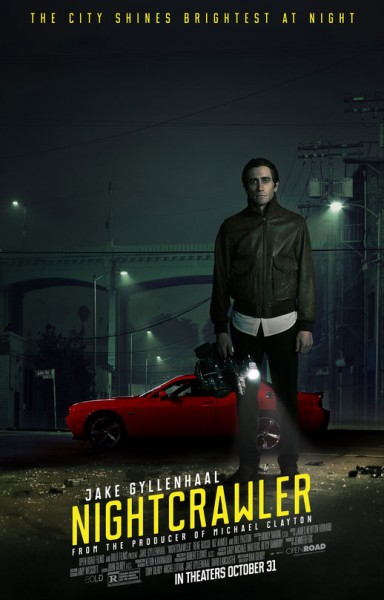 Oscar-nominated Nightcrawler (written and directed by Dan Gilroy) is now available to purchase digitally, two weeks ahead of the Blu-ray, DVD and On Demand options release on February 10th, 2015. The film stars Jake Gyllenhaal as accidental video journalist Lou Bloom who gets tangled up in events following a home invasion.
Nightcrawler can be purchased for $14.99 from most digital video services in either Standard-Definition (SD) or High-Definition (HD) quality. Verizon FiOS On Demand and Comcast Xfinity On Demand both have the movie priced one dollar higher at $15.99 for either SD or HD. As of this publication, CinemaNow, Flixster, and Target Ticket don't seem to have the film available to purchase.
For those of you building up your UltraViolet-based digital movie collection, UV-supporting digital services include Flixster, Target, Walmart's Vudu, and Cinema Now. Nightcrawler in digital format will also be redeemable via iTunes.
Nightcrawler Digital HD/SD Price Comparison*
Amazon Instant Video $14.99 (HD) $14.99 (SD)
Apple iTunes $14.99 (HD) $14.99 (SD)
Cinema Now NA
Flixster – NA
Google Play $14.99 (HD) $14.99 (SD)
Sony Entertainment Network $14.99 (HD) $14.99 (SD)
Target Ticket – NA
Verizon FiOS On Demand $15.99 (HD) $15.99 (SD)
Vudu $14.99 (HD or HDX) $14.99 (SD)
Xbox Video $14.99 (HD) $14.99 (SD)
Xfinity On Demand $15.99 (HD) $15.99 (SD)
*Prices at time of article publication.
NA – Not available at time of publication