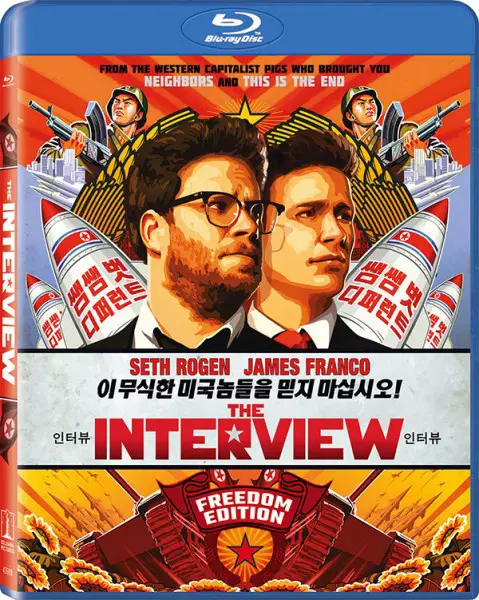 Sony Pictures has announced the release date for The Interview on Blu-ray Disc and DVD will be Tuesday, February 17th. The Blu-ray edition will contain a Digital HD copy of the film via UltraViolet, so those who haven't yet purchased the digital version can get both formats with the purchase of the BD.
Marketed as the collectible "Freedom Edition," The Interview on Blu-ray Disc is loaded with 90 minutes of bonus features, 14 deleted scenes, alternate and extended scenes, a gag reel, and alternate joke takes. Bonus featurettes, (there are eight listed in the disc specs), include Seth Rogen and Evan Goldberg commenting on the film in "Directors of This Movie," cast interviews in "Spies Among Us," and the "Randall Park Audition Tape" from Park's audition table read.
Both the Blu-ray and DVD will include the Discovery Channel TV special titled "Naked and Afraid" with Seth Rogen and James Franco, as well as audio commentary from Rogen and Evan Goldberg.
A midst the controversy of a devastating hack upon the Sony web servers, the theatrical release of The Interview was initially cancelled, but then given a digital release across several platforms including Google Play, Microsoft's Xbox Video, YouTube Movies and on Sony's online platform.
The price to rent The Interview online is generally $5.99, and to purchase about $14.99. The Blu-ray Disc of The Interview carries an MSRP of $34.99 but is available to pre-order for about $24.99 from Amazon. The DVD copy lists for $30.99, with pre-order pricing set at about $21.99.