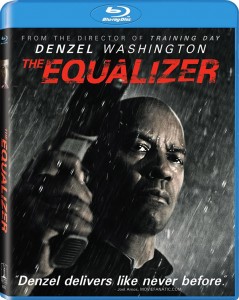 Want to know what's new on Blu-ray, DVD and Digital this week? Sony Pictures has released The Equalizer from director Antoine Fuqua (Training Day) starring Denzil Washington (American Gangster, Malcom X, Training Day). Neither the Blu-ray nor the DVD release contain access codes for digital copies, but the film is available to purchase in standalone digital format.
HBO's Banshee: The Complete Second Season is now available in both Blu-ray Disc and DVD formats, both of which are four disc sets. Along with all episodes of the season, the editions also include audio commentaries, extra featurettes, and deleted scenes. The Blu-ray edition also includes Digital HD copies of the shows.
Warner Home Video has released Shameless: The Complete Fourth Season to a five-disc Blu-ray edition and three-disc DVD edition. Special features on both formats include two new featurettes and un-aired scenes from the show, as well as subtitles in English, French, and Spanish. The Blu-ray edition also includes Digital HD copies of the season via UltraViolet.
And, Kevin Smith's Tusk is available in single-disc Blu-ray and DVD editions that include digital copies. The Blu-ray version includes a Digital HD copy while the DVD includes and Digital SD copy. The wacky horror film stars Michael Parks (Kill Bill), Haley Joel Osment (The Sixth Sense), with an appearance by Johnny Depp (Edward Scissorhands).
Check out our picks for the week below.
New Blu-ray, DVD & Digital Releases, Dec. 30, 2014
The Equalizer (Blu-ray, DVD)
Shameless: The Complete Fourth Season (Blu-ray, DVD, Digital HD w/UltraViolet)
Banshee: The Complete Second Season (Blu-ray, DVD, Digital HD w/UltraViolet)
Tusk (Blu-ray, Digital HD w/UltraViolet)
Red Vs Blue: Season 12 (Blu-ray, DVD)
Reach Me (Blu-ray, DVD)
Elsa & Fred (Blu-ray, DVD)
Riki-Oh: The Story of Ricky (1991) (Blu-ray, DVD)
Tromeo & Juliet (Region Free, PAL) (Blu-ray)
Mr Write (1994) (Blu-ray, DVD)
Hound of the Baskervilles (Blu-ray, DVD)
The Toxic Avenger Part III (Blu-ray, DVD)
Tha Crib (Blu-ray, DVD)