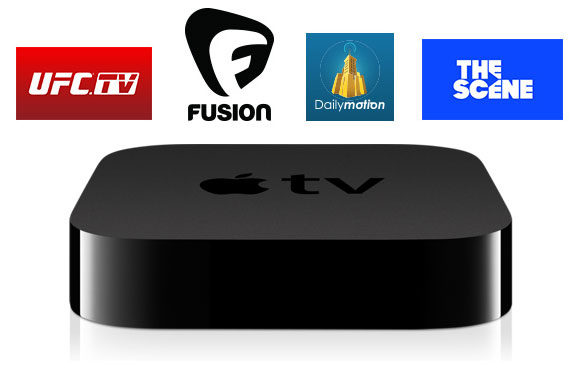 Apple TV's channel lineup is getting a few more choices before year's end with the addition of UFC.tv, Dailymotion, Fusion, and The Scene apps. UFC.tv (Ultimate Fighting Championship) provides live and on-demand access to UFC events and classic fights from the UFC archive of combat sporting events.
Dailymotion is a video sharing platform similar to YouTube and Vimeo that streams video clips from a variety of sources. Categories include movies, sports, tech, TV, and music among other genres of video content.
The Scene app provides fashion, sports, news, culture, and comedy content from brands such as ABC News, Glamour, Vogue and Wired, as well as digital-first content from partners like Major League Soccer and BuzzFeed.
Fusion is an upstart network that provides offbeat journalism covering the latest news, pop culture with a satirical twist.
Apple TV recently added Beats Music, CBS News, Feeln, FYI, and FX Now to their channel lineup.
The YouTube app for Apple TV was also just updated this month with a new design, personalized recommendations, and improved search functions.
Here's a complete list of Apple TV channels.